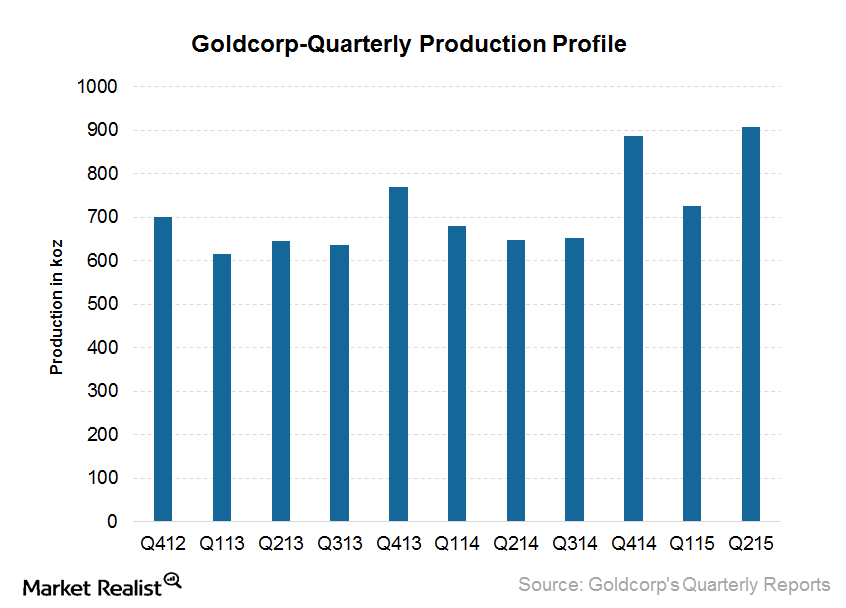 Goldcorp's Production Growth Starts to Deliver in 2Q15
Record gold production
In 2Q15, Goldcorp (GG) achieved record gold production of 908,000 ounces. This is a solid 40% growth year-over-year (or YoY) and 25% growth quarter-over-quarter (or QoQ). In this article, we'll discuss which mines contributed to this solid production growth for Goldcorp.
The major contributor to Goldcorp's production growth was the Peñasquito mine in Mexico, which achieved a record 298,000 ounces—33% of total gold production. This was a growth of 92% QoQ, driven mainly by higher sulphide grades due to positive model reconciliation, as substantial mining took place in the heart of the deposit in Phase 5C.
The Cerro Negro mine in Argentina and Eleonore mine in Canada are also ramping up, which led to an increase of 38,700 ounces and 11,400 ounces, respectively. These mines achieved commercial production in 2015.
Article continues below advertisement
Guidance toward upper end
Goldcorp expects production for 2015 to be at the high end of the previously guided 3.3 million–3.6 million ounces for 2015. The company also noted that gold production for 2015 is expected to be weighted toward the second half of the year. This is due to the continuing ramp-ups of the Cerro Negro and Eleonore mines and the planned mine sequence at Peñasquito. The production at Peñasquito is also expected to be at the high end of 700,000–750,000 ounces.
Comparable earnings
Newmont Mining (NEM) released its earnings on July 22. It also reported strong production growth compared with the corresponding period last year. The production came in at 1.24 million ounces of gold.
Kinross Gold (KGC) and Barrick Gold (ABX) reported their 2Q15 earnings on July 29 and August 5, respectively. Both companies reported results in line with market expectations.
Investors can access the gold industry through gold-backed ETFs such as the SPDR Gold Trust ETF (GLD) and the VanEck Vectors Gold Miners ETF (GDX). GDX invests in senior and intermediate gold stocks. KGC and GG account for 10% of its holdings.
In the next two parts of this series, we'll see how Peñasquito and other mines helped Goldcorp achieve a production record and whether this trend can continue going forward.