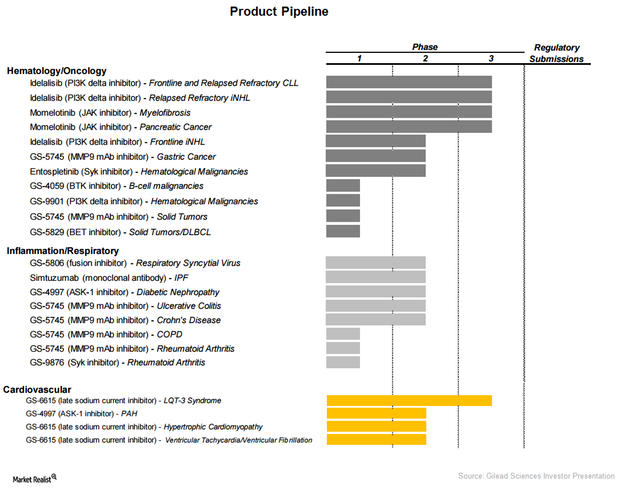 Gilead Sciences' Product Line Extension
Product line extension
In addition to strengthening its foothold in the HIV and HCV (hepatitis C virus) markets, Gilead Sciences (GILD) is entering therapeutic areas such as oncology, pulmonology, and cardiology.
Article continues below advertisement
Oncology
According to Cancer.org, "Chronic lymphocytic leukemia (CLL) is a type of cancer that starts from cells that become certain white blood cells (called lymphocytes) in the bone marrow. The cancer (leukemia) cells start in the bone marrow but then go into the blood." GlobalData projects that by 2018, CLL drugs will manage to earn about $3.3 billion in the United States, Italy, Spain, France, Germany, and the United Kingdom. Gilead Sciences has targeted this opportunity and introduced a drug called Zydelig in 2014.
Zydelig is a brand name for the compound idelalisib and is taken in combination with Roche's (RHHBY) Rituxan. It's the third CLL drug to receive the breakthrough therapy designation from the FDA. Before Zydelig, FDA had approved Roche's GAZYVA, AbbVie (ABBV) and Johnson & Johnson's (JNJ) IMBRUVICA, and GlaxoSmithKline's ARZERRA as CLL Drugs. Zydelig has proven to be a more effective and safer medication than chemotherapy. Analysts expect the drug to earn about $1.2 billion in peak sales.
Gilead has other idelalisib-based drugs in phase III trials for different categories of CLL. Additionally, Gilead has important drugs in phase I and phase II clinical trials for cancers such as pancreatic cancer, gastric cancer, and solid tumors.
Article continues below advertisement
Respiratory and inflammatory diseases
Gilead Sciences has been earning royalty revenues from Roche for marketing its influenza A and B drug, Tamiflu. Further, in 2010, FDA approved Cayston, a drug for cystic fibrosis, a genetic condition that clogs the lungs and digestive system with thick, sticky mucus. Gilead also has drugs for respiratory diseases, Crohn's disease, and rheumatoid arthritis in its drug pipeline, mostly in the initial phases of the clinical trial process.
Cardiovascular diseases
Gilead's cardiovascular drug portfolio includes drugs such as Letairis, Ranexa, and Lexiscan. Additionally, the company has compounds such as GS-6615 and GS-4997 in phase II and phase III clinical trials for other conditions of the heart.
Investors can have exposure to Gilead Sciences' strong oncology, pulmonology, and cardiology pipeline while avoiding company-specific risks by investing in the iShares NASDAQ Biotechnology ETF (IBB). IBB holds 7.89% of its portfolio in Gilead Sciences' stock.