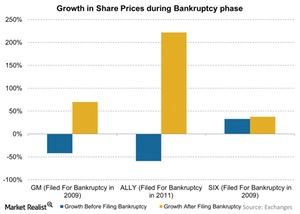 Why Distressed Debt Investment Is Key in Bankruptcy Investing
By Ivan Kading

Aug. 31 2015, Updated 4:15 p.m. ET
Turnaround from a bankrupt state requires an active plan
The revised share price after a company's bankruptcy is not always the correct reflection of a company's real value. By devising a counter plan, a fundamentally strong company can reverse its condition and get out of bankruptcy. It is easier said than done, though. Although the probability for a bankrupt company to again become a profitable company is one in ten, a company can return enormous profits to an investor who can estimate such a turnaround in the business.
Article continues below advertisement
General Motors (GM), Ally Financials (ALLY), American Airlines (AAL), Six Flags (SIX), and various other companies were able to become profitable after bankruptcy. GM is part of the Consumer Discretionary Select SPDR Fund (XLY), while ALLY is part of the First Trust Financials AlphaDEX Fund's (FXO) holdings. The chart below shows one-year growth in companies before and after filing for bankruptcy.
An opportunity in distressed debt
Marc Lasry, the co-founder and chief executive officer of Avenue Capital Group, in his interview on Wall Street Week, reported that he made more than 60% returns with bankruptcy investing. According to him, during the period of bankruptcy, investors can buy distressed debt at a far cheaper rate from the secondary market. Thus, an arbitrage strategy can help investors make a profit by buying debt at a more reasonable market price and holding it for the long term until the company again becomes profitable.
Bond over equity
This strategy of buy and hold can also be done using equity, but it is riskier when compared with distressed debt investing. As debt holders have more rights to the assets of the company, during liquidation, they are preferred over equity shareholders. Thus, equity holders can lose all their money during bankruptcy, but also can gain the most. Thus, the generic rule of high risk and high return applies here as well.