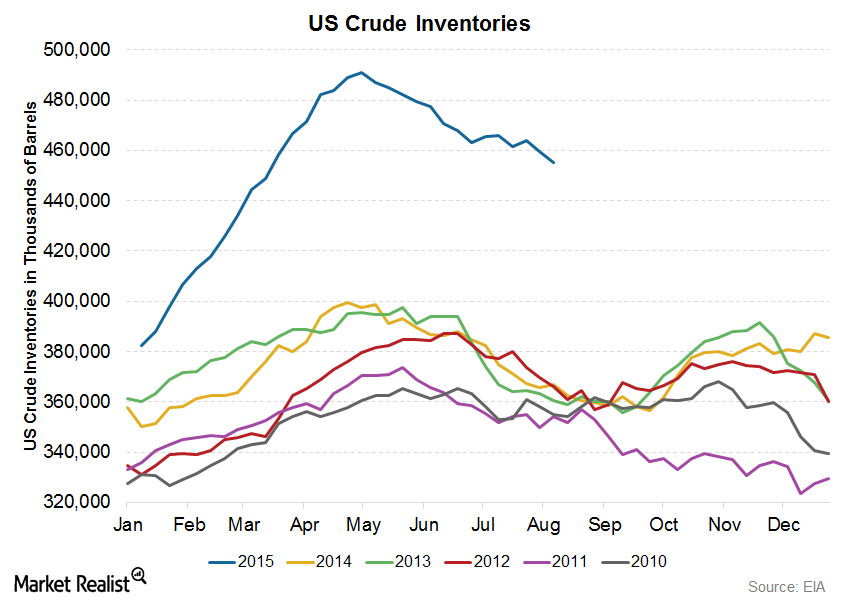 Crude Oil Inventories Fell, but Why Did WTI Crude Prices Slump?
Crude oil inventories
In its weekly "Petroleum Status Report" released on Wednesday, August 5, the EIA (U.S. Energy Information Administration) reported a decrease of 4.4 million barrels (or MMbbls) in crude oil inventories for the week ended July 31.
In contrast, analysts were expecting a much smaller 1.63 MMbbls decrease. This would have ideally released the immense pressure WTI futures have been under lately. Follow us through this series to see why WTI hasn't been able to bounce back despite a much-larger-than-expected decline in crude oil inventories.
Article continues below advertisement
What this means
When inventories decrease more than expected, they're usually bullish for crude oil prices. This is positive for major oil producers such as Chevron Corporation (CVX), Cimarex Energy (XEC), Murphy Oil (MUR), and Anadarko Petroleum (APC). All these companies are components of the iShares U.S. Energy ETF (IYE). They make up ~15% of the fund. Plus, higher prices may motivate these upstream companies to produce more crude oil, which would mean higher volumes transmitted by MLPs like Plains All American Pipeline Partners (PAA). This, in turn, would boost their revenues.
Background on crude oil inventories
After touching a peak of 490.9 million barrels in the week ended April 24, inventories began turning downward for the first time in four months in the week ended May 1, as you can see in the graph above.
Until the week ended June 26, inventories consistently decreased—by a cumulative ~28 MMbbls—sparking speculation that the supply glut was easing. Since then, however, inventories have seesawed. Recently, inventories have declined two weeks in a row and are currently at ~455.3 million barrels.
Whether the change in the course of crude oil inventories will continue in the coming weeks remains to be seen. Production is one of the key things to watch here. We'll discuss production in the next part of this series.
Importance of crude oil and inventories
Crude oil is one of the most important energy sources for the world. Its refined products have several applications, ranging from powering cars to building roads. Crude oil prices are important not only for individuals but also for the world's economies and industries. Supply and demand trends determine crude oil price trends. You can easily gauge these trends based on trends in crude oil inventory levels.