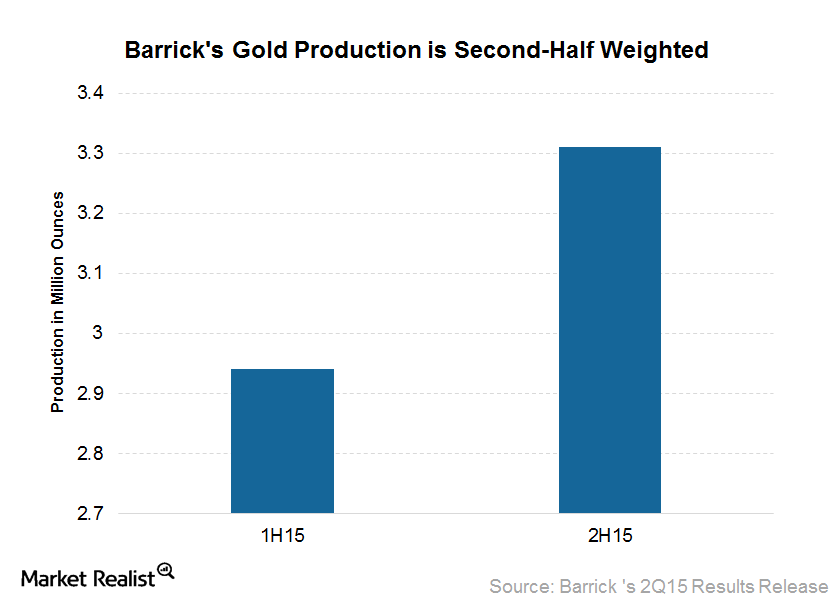 Barrick Gold Weights 2015 Production toward the 2nd Half
Production decline
Barrick Gold's (ABX) gold production in 2Q15 totaled 1.45 million ounces. This represents a 3% year-over-year decline, which can be attributed to asset sales and less production at the Cortez, Goldstrike, Pueblo Viejo, and Veladero mines.
Barrick's peer Newmont Mining (NEM) also divested some assets this past year, but it still reported an increase of 0.2 million ounces of gold in 2Q15 over 2Q14. This is because its Batu Hijau and Tanami mines production more than offset the decline from lost assets. Goldcorp (GG), for its part, reported record quarterly gold production of 908,000 ounces in 2Q15, due to the outstanding performance of its Peñasquito mine.
Investors can access the gold industry through gold-backed ETFs such as the SPDR Gold Trust ETF (GLD) and the VanEck Vectors Gold Miners ETF (GDX). GDX invests in senior and intermediate gold stocks. KGC and GG account for 10% of its holdings.
Article continues below advertisement
Production weighted toward second half
Production at Cortez is weighted more toward the fourth quarter of 2015. Cortez produces some refractory ore that can't be converted into gold using conventional methods. An alternative, non-toxic TCM (thiosulfate) conversion process available at the company's Goldstrike mine will be used to treat Cortez's ore. as a result, the company will process more ore. For more on TCM, read Goldstrike has strong quarter, thiosulfate project on track.
Production at the Goldstrike mine is also expected to be stronger in the third quarter owing to better open-pit grades.
While production at the Pueblo Viejo mine was less than expected in 2Q15 due to fewer gold recoveries, it's expected to rise in the second half of the year with improved recoveries and greater autoclave availability.
Barrick's five core mines are expected to produce about 60% of its total production at all-in sustaining costs, or AISC, of $700 to $750 per ounce, down from $725 to $775 per ounce.
For more information about Barrick's mines, read Barrick Gold: Overview of the world's largest gold mining company.
Lower production guidance
Reflecting the sale of the Cowal mine and of 50% of Barrick (Nuigini) Ltd., Barrick has reduced its 2015 gold production guidance to 6.1 million to 6.4 million ounces from 6.2 million to 6.6 million ounces. This production is 55% weighted toward the second half of the year because that's when more production is planned to occur at the Goldstrike, Cortez, and Pueblo Viejo mines. The firm's copper production guidance remains unchanged at 480 million to 520 million pounds.