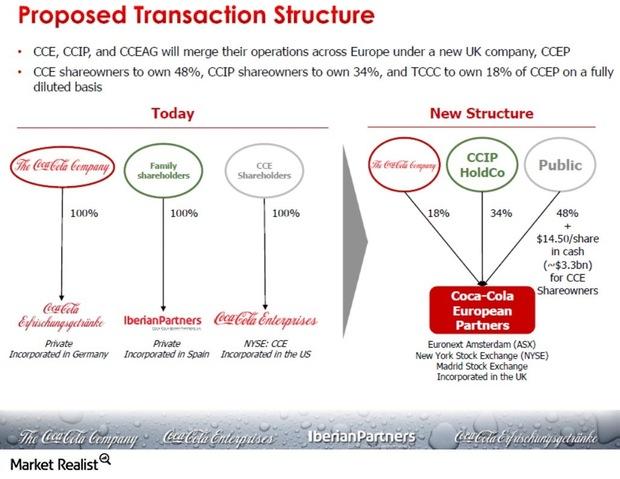 Coca-Cola Bottler Merger: Analyzing the Deal's Economics
Shareholding in proposed merged bottling entity
As we discussed in the previous article of this series, three Coca-Cola bottlers—Coca-Cola Enterprises (CCE), Coca-Cola Iberian Partners (or CCIP), and Coca-Cola Erfrischungsgetränke AG (or CCEAG)—announced their intention to merge on August 6. The new company, Coca-Cola European Partners PLC (or CCEP), would be based in the United Kindgom with CCE, CCIP, and The Coca-Cola Company (KO) holding 48%, 34%, and 18% of shares, respectively.
Article continues below advertisement
Distribution and ownership structure
CCE is the largest independent bottler among the three companies, with operations in eight European countries: the United Kingdom, Belgium, continental France, Luxembourg, Monaco, the Netherlands, Norway, and Sweden. CCE has disclosed that it has 17 manufacturing sites in Europe, with ~90% of its products manufactured locally.
In 2010, KO acquired CCE's North American bottling operations. KO currently doesn't own a stake in CCE.
CCIP is an independent bottler with operations in Portugal, Spain, Iceland, and Andorra. CCIP is privately held. CCEAG operates in Germany and is 100% owned by The Coca-Cola Company (KO).
The merger would create the largest bottler in the Coca-Cola network in terms of sales. CCEP's 2015 pro forma sales are estimated at ~$12.6 billion. The new company would cover a region of 300 million consumers in 13 countries. Its consolidated pro forma volume is estimated at ~2.5 billion unit cases per year.
Article continues below advertisement
Bottling economics
Following the merger, the companies have disclosed that KO would enter into a ten-year bottling agreement with CCEP, which will be renewable for a further ten years at the companies' discretion. The companies also expect to extend the contractual terms of pricing currently in place for a four-year initial period, as applicable, depending on the market.
In the past, beverage companies like Anheuser-Busch, PepsiCo (PEP), and Coca-Cola have extensively employed the bottler model in order to improve capital productivity metrics.
KO plans to account for its 18% investment in CCEP using the equity method of accounting. And while that gives KO a stake in a strategically important business, it also allows the company to keep heavier investment off its books. KO expects a mild upside in 2016 comparable earnings per share (or EPS) as a result of the transaction.
KO and CCE together constitute 8.7% of the holdings in the Vanguard Consumer Staples ETF (VDC) and 1.5% of the holdings in the SPDR Dow Jones Industrial Average ETF (DIA).