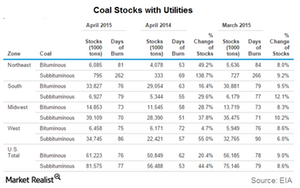 Utilities Continue to Stockpile Coal as Prices Remain Subdued
By Mike Sonnenberg

Updated
Coal inventories
In its June 25 report, the EIA (U.S. Energy Information Administration) published coal inventories with utilities for April 2015. Utilities benefitted from low coal prices by piling up their coal stocks. As a result, bituminous coal inventories at utilities in the United States rose to 61.2 million tons (76 days of burn) at the end of April 2015 compared to 56.2 million tons (78 days of burn) at the end of March 2015 and 50.8 million tons (62 days of burn) at the end of April 2014. While the tonnage increased month-over-month, the number of days of burn decreased in April 2015 over the previous month, as the anticipated use of coal in the near future was higher at the end of April compared to a month back.
Inventories of Sub-bituminous coal, which is primarily used in the western part of the United States, jumped to 81.4 million tons (77 days' burn) at the end of April 2015 compared to 75.1 million tons (79 days' burn) a month back and 56.5 million tons (53 days' burn) a year ago.
Article continues below advertisement
Why is this important?
Coal inventories indicate coal demand in the near future. Coal-fired power plants burn coal almost continuously. They only take breaks during plant maintenance. The process of extracting and transporting coal takes time. In order to avoid disruptions, utilities have to stock up on coal in advance.
Utilities order fresh shipments of coal once the current inventory reaches a minimum level. The EIA publishes coal inventory data monthly. Analyzing the data provides key insights into coal demand in the near future. Lower days of burn are generally positive news for coal producers (KOL), including Peabody Energy (BTU), Alliance Resource Partners (ARLP), Cloud Peak Energy (CLD), and Arch Coal (ACI), as they can expect demand from utilities restocking their coal. However, in the current low natural gas price environment, utilities will likely switch to natural gas, putting the expected demand for coal restocking at risk.