Sources of External Capital for the Biotechnology Industry
In the early stages of their life cycles, most biotechnology companies are financed by venture capital, which typically comes from wealthy investors who invest in startup companies.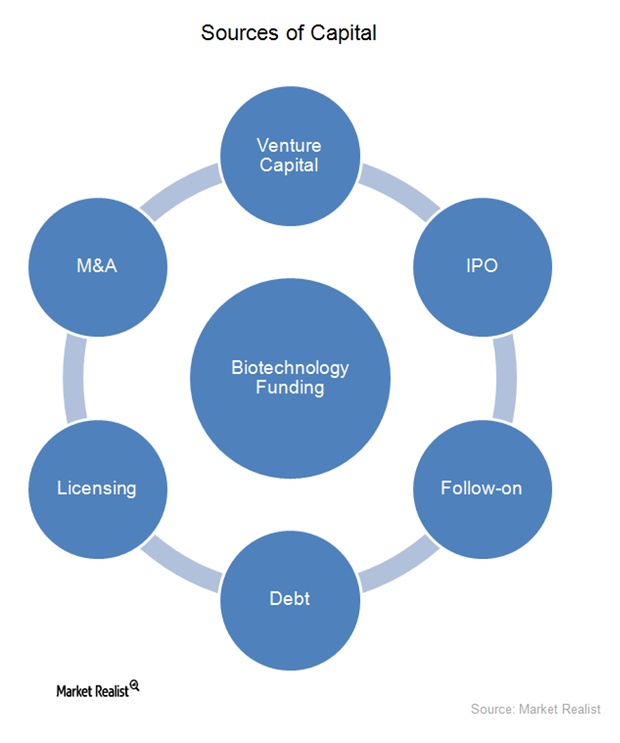 Sources of capital
The pharmaceutical industry relies on internally generated cash flows to finance its investments. The biotechnology industry (IBB), on the other hand, is highly dependent on capital markets for funding.
Article continues below advertisement
Article continues below advertisement
Capital markets
In the early stages of their life cycles, most biotechnology companies are financed by venture capital (or VC). VC typically comes from wealthy investors who manage venture funds and invest in startup companies that have the potential to generate high returns in the future. In exchange for funding, the investors receive equity in these high-risk companies and cash out of the investment by selling the shares either to another company or to the public through an initial public offering (or IPO).
Private companies first issue their shares to the public through an IPO. After the IPO, biotechnology companies with rising share prices can also issue follow-on offerings in which they sell more equity to the public. Debt funding is availed through banks or public debt markets, with interest rates determined by the perceived riskiness of the sector.
Article continues below advertisement
Licensing
Biotechnology companies enter into licensing or collaborative arrangements either with big pharmaceutical companies or with each other for drug compounds in the late stages of development. This provides a non-dilutive source of capital to the biotechnology companies, who get access to funds without diluting their equity.
In licensing deals, a small biotechnology company generally transfers its drug technology to a larger biotechnology or pharmaceutical company. In this arrangement, the buyer company assumes all the responsibility and cost for the future development of these drugs, reimbursing the small biotechnology company with an upfront payment.
The licensing arrangement also serves as a validation of the drug, helping in its future commercialization and acceptance by the market. In September 2014, biotechnology leader Gilead Sciences (GILD) entered into licensing arrangements with seven pharmaceutical companies in India to expand its Hepatitis C drug market in developing economies.
Collaborations have been slowly replacing the one-time licensing deal trend where both the small and large biotechnology and pharmaceutical companies share in development costs. Payment to the small biotechnology company is dependent on achieving milestones. This helps hedge the development risk but can reduce funding for the biotechnology companies.
Recent collaborations involve Regeneron (REGN) and Avalanche Biotechnologies (AAVL) to develop ophthalmic drugs, Celgene (CELG) and PharmAkea Therapeutics for cancer treatments, and Roche and Spero Therapeutics for antibacterial drugs.
Mergers and acquisitions
When there's a lack of resources for the development and distribution of novel drugs, biotechnology companies may opt for the outright sale or merger and acquisition (or M&A) to larger companies.