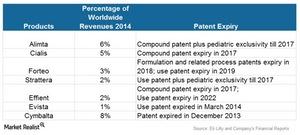 What Risks Does Eli Lilly and Company Face?
Risks
Eli Lilly and Company (LLY) faces the following risks in addition to industry-specific risks in the pharmaceutical industry.
In previous years, Lilly lost the patent on Cymbalta and Evista. It's expected to lose the patents for Alimta, Cialis, Forteo, Strattera, and Effient—as you can see in the above chart. Cymbalta's sales contributed ~$5 billion in revenue in 2013, while the contribution fell to ~$1.6 billion in 2014 due to the patent expiry. The risk of losing market share on the event of losing the patents is the highest risk for any pharmaceutical company.
Article continues below advertisement
Intellectual property or patents
Lilly deals with innovative pharmaceutical products. Any failure in securing and protecting intellectual property rights may lead to huge losses. There's a risk of losing market exclusivity earlier than expected or losing market share to generics on expiry of exclusivity. There's also a risk when biosimilars are introduced for competing products.
Lilly has a risk of possibilities where it may not succeed in developing or acquiring commercially successful products sufficient in value to replace revenue loss from the products losing intellectual property protection.
Supply chain and the quality of products
The product supply and related patient access can be negatively impacted by:
disruption in supply chain continuity
product seizures or recalls or forced closings of manufacturing plants
failure to comply with CGMP (Current Good Manufacturing Practice) requirements in commercial manufacture, through the distribution chain, and through the company or its contractors or suppliers
inadequate controls and governance of quality and other factors that could delay in launching of new products, shortages in supply of current products, and potential damage to the brand reputation
All of these attract regulatory, legal, and financial consequences that could materially and adversely affect Lilly's reputation and financial performance.
Legal, economic, and financial risks
Lilly operates worldwide and is subjected to regulatory, political, socio-economic, and financial factors in individual countries as well as globally. The company faces the adverse impact of a sustained economic downturn. Fluctuations in foreign exchange rates and limited third-party insurance coverage also add financial risks.
Other pharma companies like Merck and Company (MRK), Pfizer (PFE), and Sanofi (SNY) generally face similar risks. The Health Care Select Sector SPDR ETF (XLV) is focused on large pharmaceutical and healthcare companies.