Procter & Gamble: Beauty Segment Sales Trail Overall Growth
Procter & Gamble's Beauty segment includes products such as deodorants, cosmetics, personal cleansing, skin care, and hair care.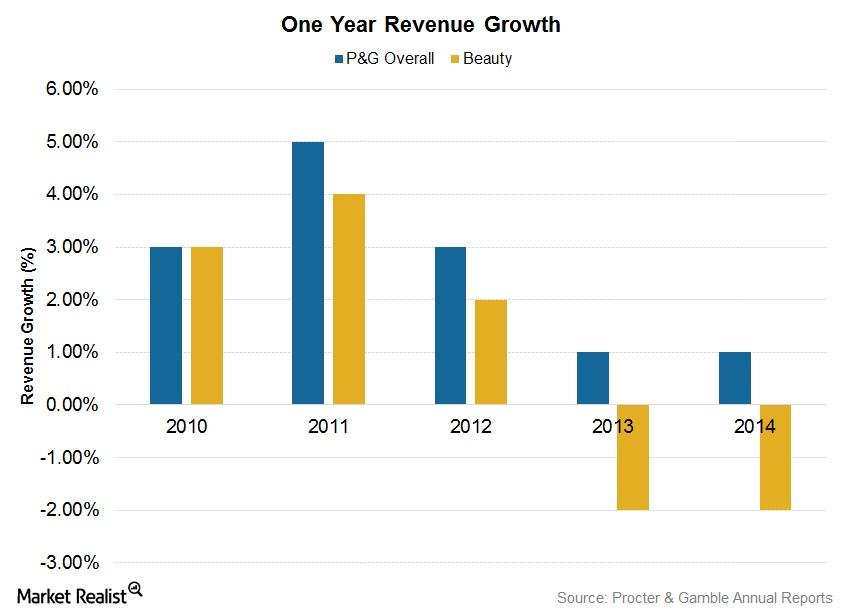 Segment overview
The Procter & Gamble Company, or P&G (PG), is a multinational consumer staples (XLP) company. Beauty care is P&G's third-largest segment. The Beauty segment includes products such as deodorants, cosmetics, personal cleansing, skin care, and hair care.
P&G reported segment revenue of $19.5 billion for fiscal 2014. The segment contributed 23.7% of the company's total revenue and 23.3% of its total net profit, making it the third-largest grossing segment, after Fabric Care and Home Care, and Baby, Feminine and Family Care.
The above graph shows the Beauty segment's annual revenue growth alongside P&G's overall revenue growth.
Article continues below advertisement
Article continues below advertisement
Billion dollar brands
Head & Shoulders, Pantene, SK-II, Wella, and Olay are some of the most popular brands in the Beauty segment. They're megabrands, each earning revenues of over $1 billion every year.
These brands face global competition from Estee Lauder (EL) and Coty (COTY) in skin products, cosmetics, and fragrances. Unilever's (UL) hair care brand, TRESemmé, fragrance brand AXE for men, and skin care brands Simple, Dove, and Vaseline are also competitors.
P&G's Olay brand has an 8% global market share, making it the top-selling facial skin care product in the world. Along with global competition, local or mass market competition has also increased in the Beauty segment.
Some of P&G's beauty segment brands may have been divested at an auction, according to a report in the New York Post. To learn more, read Coty Wins 3 Auctions for P&G Beauty Brands: A Win-Win Deal?
Future outlook
Though the segment's revenue fell by 2% in fiscal years 2013 and 2014, its operating profit increased by 1.6% to $3.5 billion in fiscal 2014. This was primarily due to a decrease in selling, general, and administrative costs. The operating profit in fiscal 2013 was $3.2 billion.
Rising incomes and population growth resulted in accelerated demand for premium brands in emerging markets. Premium brand sales rose to 4.5%, adding 40 basis points to the growth rate in fiscal 2014. In contrast, sales of local brands grew by 20 basis points. Growth of premium brands has outpaced that of mass-market brands.
Investing in P&G