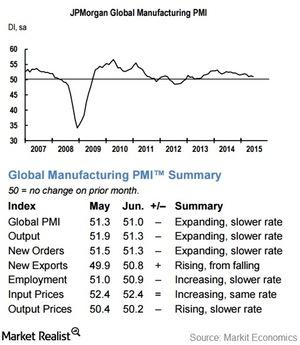 Markit Economics' PMI Report: Global Manufacturing Slowed in June
Markit PMI helps gauge business conditions
Markit Economics' PMI (purchasing managers' index) surveys are helpful in understanding business conditions in any economy. For example, investors in the European economy (VGK) can use this tool to assess whether the monetary stimulus being provided to the economy by the ECB (European Central Bank) is helping industrial activity rise.
The US industrial sector is dominated by companies like General Electric (GE), 3M (MMM), Caterpillar (CAT), United Technologies (UTX), and Boeing (BA)—along with smaller players like Masco (MAS) and Joy Global (JOY). Investors in these companies would be interested in the Markit US Manufacturing PMI monthly reading. This reading could help them track any rise or fall in the economy's industrial activity that could substantially impact their investment in the US industrial sector (XLI).
Article continues below advertisement
Article continues below advertisement
Business activity scorecard
The Markit PMI report serves as a business activity scorecard for the economy under survey. This monthly economic survey provides insight into the private sector economy by tracking variables like output, new orders, employment, and prices across key sectors. Its importance is enhanced by the fact that many policymakers use this data while making interest rate decisions that affect the economy at large.
J.P. Morgan Global Manufacturing PMI report
On July 1, Markit Economics released its final June PMI report for the US, the Eurozone, the BRIC nations (Brazil, Russia, India, and China), and Japan. It also came out with its Global Manufacturing PMI report for June. Produced by J.P.Morgan (JPM) and Markit, in association with the ISM (Institute for Supply Management) and the IFPSM (International Federation of Purchasing and Supply Management), the report indicated that growth in the manufacturing sector has slowed to a two-year low worldwide. The composite index slipped to 51 in June from 51.3 in May.
"The expansions in the US and the UK (among the leading lights of global manufacturing earlier in the year) cooled in June, with production growth at a 17- month low in the US and 26-month low in the UK. Japanese output edged higher for the second successive month, while conditions continued to improve in the euro area. Among the main emerging markets, output fell slightly in China and Russia, but rose in India, Mexico and Vietnam. Brazil's severe downturn in manufacturing production continued," said the report.
In this series, we'll take you through reports that are specific to each of these economies. Let's find out where industrial activity is rising and where it's falling.