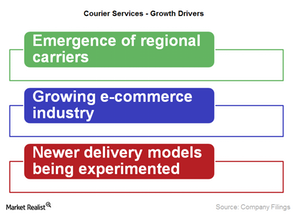 The Key Trends that Could Shape the Courier Industry in 2015
Emergence of regional carriers
The US has witnessed the emergence of a number of regional carriers such as OnTrac and Eastern Connection, which are providing cheaper, faster delivery options to Western and Northeast US states. These companies have been able to get sizable contracts from major customers such as Amazon (AMZN). Also, startups such as Postmates are gaining market share by garnering giants like McDonalds (MCD) and Starbucks (SBUX).
Article continues below advertisement
E-commerce industry
As discussed in the above article, the e-commerce industry is expected to be a major growth driver for the courier and parcel delivery services industry in the future. The market is expected to generate huge volumes and could garner revenues of about $2.4 trillion by 2018. The growth in e-commerce in various other economies such as Europe, India, and China opens up new opportunities for international players such as FedEx (FDX) and UPS (UPS). The iShares Transportation ETF (IYT) has 29.11% exposure to air freight and logistics providers.
Experiments with newer delivery models
While companies such as FedEx and UPS follow the traditional logistics approach, new entrants to the industry such as Uber, Google (GOOGL), and Amazon (AMZN) are trying out newer approaches to cut costs and delivery times. Uber launched its courier services, which involve its taxi drivers, bikers, and on-foot messengers delivering parcels, while Amazon plans to have an app that will let ordinary people earn by delivering packages en route to their destinations.