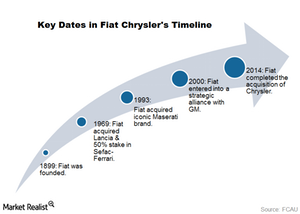 An Investor's Guide to Fiat Chrysler's Timeline
By Mohit Oberoi, CFA

Jul. 22 2015, Updated 12:19 p.m. ET
Key dates in Fiat Chrysler's timeline
Fiat Chrysler Automobiles N.V. (FCAU) debuted on the New York Stock Exchange on October 14, 2014. FCAU took shape when Fiat Motors acquired the complete stake in Chrysler in 2014. In this part of the series, we'll explore some key dates on Fiat Chrysler's timeline.
Article continues below advertisement
Fiat's history
As you can see in the above timeline, Fiat was founded in 1899, four years before Ford Motors (F) was incorporated. In 1953, the company produced Italy's first diesel-powered passenger car. In 1969, Fiat acquired Lancia and purchased a 50% stake in Sefac-Ferrari. Alfa Romeo became part of Fiat in 1984.
In a breakthrough, Fiat developed the world's first direct-injection diesel engine for passenger cars in 1987. Fiat acquired the prestigious carmaker Maserati in 1993.
In 2000, Fiat entered into an industrial alliance with General Motors (GM). The alliance was dissolved in 2005. In 2009, Fiat entered into a global strategic alliance with Chrysler Group. The following year, Fiat shareholders approved a demerger of its industrial activities. After the demerger, Fiat consisted of Fiat Group Automobiles (or FGA), Ferrari, Maserati, Magneti Marelli, Teksid, Comau, and Fiat Powertrain Technologies.
Tata Motors (TTM) acquired the iconic Jaguar and Land Rover brands in 2008.
Chrysler's timeline
Chrysler, which was once among Detroit's big three automobile manufacturers, has a long and troubled history. Chrysler and Daimler-Benz merged in 1998 in what was touted as a merger of equals. The marriage of Daimler and Chrysler lasted less than a decade. In 2007, Daimler sold Chrysler to Cerberus Capital Management. Chrysler filed for Chapter 11 bankruptcy in 2009 and was bailed out by the US (SPY) government. Gradually, Fiat acquired a stake in Chrysler and subsequently completed the acquisition in 2014.
In the next part of this series, we'll look at Fiat's key operations.