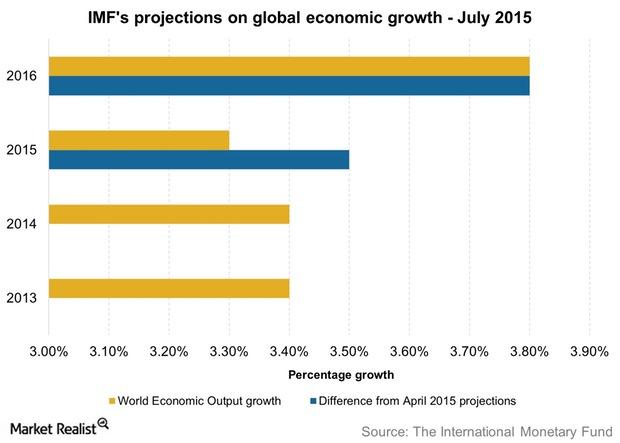 International Monetary Fund: Global Economy to Slow Down in 2015
By David Ashworth

Dec. 4 2020, Updated 10:53 a.m. ET
Global growth to slow further
The IMF (International Monetary Fund) recently came out with an update on its "World Economic Outlook" projections from April 2015. The July update estimates that the global economy will grow by 3.3% in 2015. In April, the IMF had expected the world's economic growth to rise by 3.5% in 2015. For more Market Realist coverage on this topic, read International Monetary Fund: Global Growth Disparity to Widen.
Article continues below advertisement
The primary reason for the update
The global economy experienced lower-than-expected-growth in 1Q15, especially in North America. This is why the IMF expects global economic output in 2015 to be affected.
The IMF isn't overly concerned, though. The agency maintains that factors capable of accelerating economic growth in advanced nations, including favorable monetary policies, low fuel prices, and improving labor markets, among others, are still in play. These factors have the potential to get the global economy back on track.
How does this affect you?
Slower-than-expected growth in a country or a region is not a favorable sign for investors. If economic fundamentals have weakened and are affecting growth, financial markets in that area will, sooner or later, experience lower returns as well.
At the end of the day, a slow-growing global economy can impact ETFs such as the iShares MSCI ACWI ETF (ACWI) and the Vanguard Total World Stock ETF (VT).
Nations may emerge from a downturn quickly—in macroeconomic terms—or may face years, even decades, of stalled growth. Japan is a case in point. The Japanese economy failed to grow for decades, impacting financial markets and related instruments as well as stocks, especially financials including Sumitomo Mitsui Financial Group (SMFG), Mitsubishi UFJ Financial Group (MTU), and Mizuho Financial Group (MFG).
In this series, we'll look at the IMF's expectations for economic growth across regions and countries, and we'll explore how these projections might affect your investments.
In the next article, we'll look at why the IMF expects global economic growth to slow down.