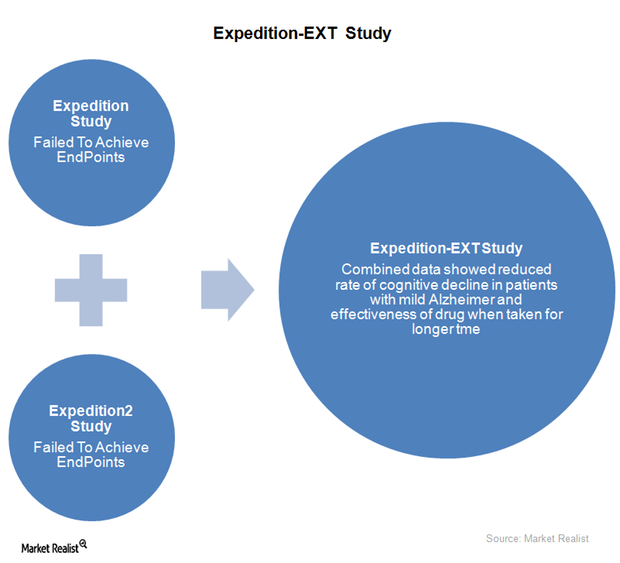 Eli Lilly's Solanezumab: A Possible Cure for Alzheimer's?
By Margaret Patrick

Jul. 28 2015, Updated 10:06 a.m. ET
Delayed-start methodology
On July 22, 2015, Eli Lilly (LLY) presented promising data from its Phase 3 study, Expedition-EXT, for its novel Alzheimer's therapy, solanezumab. Prior to this study, solanezumab had already failed to achieve the endpoints or the required goals in two previous Phase 3 studies—Expedition and Expedition2.
Article continues below advertisement
Expedition and Expedition2 studies
Eli Lilly conducted two Phase 3, randomized, double-blind, placebo-controlled studies—Expedition and Expedition2—with 1,012 and 1,040 patients, respectively, suffering from mild to moderate Alzheimer's disease. The patients were randomly administered either a placebo or solanezumab every four weeks for 18 months. For the Expedition study, the effect of the drug was then studied at the end of week 80 on two scales—Alzheimer's Disease Assessment Scale, or ADAS-cog11, and Alzheimer's Disease Cooperative Study–Activities of Daily Living scale, or ADCS-ADL. Higher scores on the ADAS-cog11 indicate greater cognitive decline, and lower scores on the ADCS-ADL indicate worse mental functioning.
Following the Expedition study, Expedition2 focused on changes in cognition in terms of 14 items listed on the Alzheimer's Disease Assessment Scale, or ADAS-cog14, for patients with mild Alzheimer's disease. Both studies, however, failed to achieve statistically significant improvements in cognition based on these scales.
Article continues below advertisement
Expedition-EXT
Expedition-EXT is a delayed-start study in which patients treated with placebos in Expedition and Expedition2 studies were also treated with solanezumab for a two-year period. The results from Expedition and Expedition2 studies were pooled. And only those patients suffering with mild Alzheimer's disease were used for the Expedition-EXT studies. These patients were then compared with the patients from Expedition and Expedition2 studies who were originally given the drug for 18 months longer. This was done to compare the results obtained in cases of early treatment of mild Alzheimer's patients with the results of those whose treatment was started at later stages of the disease.
The results concluded that patients with mild Alzheimer's disease who received treatment at earlier stages of the disease show statistically significant reductions in cognitive decline when compared with those who received the treatment at later stages.
Eli Lilly's solanezumab and Biogen's BIIB037 are novel therapies that seek to cure Alzheimer's disease. Other medications currently available in the market—such as Allergan's (AGN) Namenda, Pfizer's (PFE) Aricept, and Novartis's (NVS) Exelon—only reduce the severity of Alzheimer's symptoms. If approved, solanezumab would be a breakthrough therapy in the Alzheimer's market.
Investors can get exposure to Biogen's new Alzheimer's therapy, BIIB037, while avoiding company-specific risks by investing in the iShares NASDAQ Biotechnology ETF (IBB). IBB has 7.48% of its total holdings in Biogen.