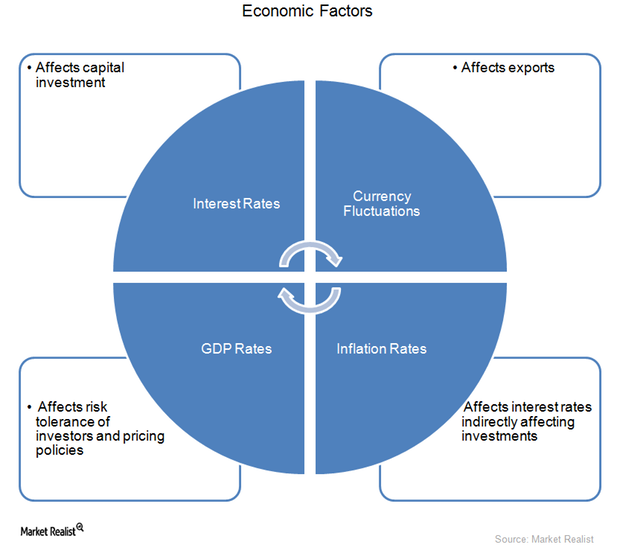 Economic Factors That Affect the Biotechnology Industry
By Margaret Patrick

Jul. 6 2015, Updated 9:06 a.m. ET
Economic factors
Compared to pure-play pharmaceutical companies, the biotechnology industry is more sensitive to economic factors such as changes in GDP (gross domestic product), interest rates, and exchange rates.
Article continues below advertisement
Economic growth and inflation
Biotechnology companies (IBB) are more research and development (or R&D) intensive compared to pure-play pharmaceutical companies. The majority of biotechnology companies, unlike their pharmaceutical counterparts, is relatively in the early stages of their life cycles. So they rely on financial markets to fund their R&D and capital investment efforts. Pharmaceutical companies, on the other hand, finance their R&D expenses through internally generated cash flows.
High inflation results from central banks raising interest rates in the country. This leads to a higher cost of borrowing for biotechnology manufacturers, which leads to reduced capital and R&D investments.
Weak economic growth also impacts biotechnology sector investments, traditionally considered risky, as investors display flight to safety in difficult economic times. Private investors thus prefer less risky and more stable sectors in periods of low economic growth. This was witnessed in the economic crisis of 2009 when overall biotechnology investments dropped by 19% compared to 2008.
With limited available capital, the biotechnology industry has to offer higher return rates to obtain funding. Although the demand for medicines doesn't vary with economic cycles, it affects the health care system's ability to pay for expensive biologic drugs. As unemployment increases and tax revenues decline, public pressure to reduce healthcare spending increases. This leads to biotechnology manufacturers offering higher discounts on their drugs, ultimately affecting their profit margins.
Article continues below advertisement
Currency fluctuations
Biotechnology companies with substantial exports benefit in periods of weak currency markets. In the fourth quarter of 2008, amid an economic downturn, biotechnology companies such as Amgen (AMGN), Celgene (CELG), Biogen (BIIB), and Gilead Sciences (GILD) beat analysts' expectations. This was due mainly to better-than-expected international sales supported by a weak dollar. Favorable currency movements helped support revenues of export-oriented biotechnology companies.
Oil prices
Lower oil prices also help boost biotechnology stocks in the short term. Biotechnology drugs contain active pharmaceutical ingredients (or APIs), which are petrochemical-based. A reduction in oil prices leads to lower petrochemical rates, which is passed on to API manufacturers. The reduced input cost is further passed on to biotechnology companies, thus resulting in higher profit margins for the sector.