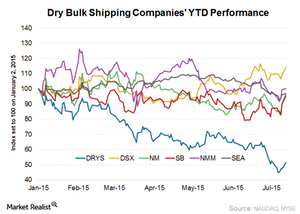 Where Is the Dry Bulk Shipping Industry Headed?
Dry bulk shipping industry performance
The year 2015 hasn't been particularly good for the dry bulk shipping industry. But things have started to improve recently. Though the Guggenheim Shipping ETF (SEA)—an index weighted with dry bulk shipping companies—has fallen by 3.3%, the BDI (Baltic Dry Index) has risen by 18.7%. We'll discuss this in more detail later in this series.
Most of the players in the dry bulk shipping space have lost value since the start of the year. Star Bulk Carriers (SBLK) fell the most, returning -56.2% YTD (year-to-date). DryShips (DRYS) follows with -48.5%. Navios Maritime Holdings (NM) and Safe Bulkers (SB) have fallen by 3.4% and 4.7%, respectively, YTD. In contrast, Navios Maritime Partners (NMM) has remained flat, and Diana Shipping (DSX) has risen by 14.4% YTD.
NM forms 1.9% of SEA's holdings.
It's important to note that investors can gain exposure to commodities through the SPDR S&P Metals and Mining ETF (XME).
Article continues below advertisement
Dynamics of dry bulk shipping
On the commodity side, iron ore and coal make up almost two-thirds of the dry bulk shipping industry. China is the biggest consumer of these two commodities. These are the major drivers on the demand side.
Currently, overcapacity on the vessel side, coupled with weak Chinese demand for commodities, especially coal, is leading to negative sentiment in the dry bulk space. It was in anticipation of China's increasing appetite for iron ore and coal almost eight years ago that managers placed large ship orders. Now, there's oversupply in the market amid waning Chinese demand growth.
Series overview
In this series, we'll discuss some of the important metrics that drive the dry bulk shipping industry. First, we'll analyze the dry bulk shipping market's medium- and long-term outlooks by studying vessel prices for newbuilds, secondhand vessels, and by looking at the dry bulk orderbook. Then, we'll analyze China's manufacturing activity as measured by the PMI (purchasing managers' index). We'll also discuss iron ore and coal imports and exports among significant trading economies.