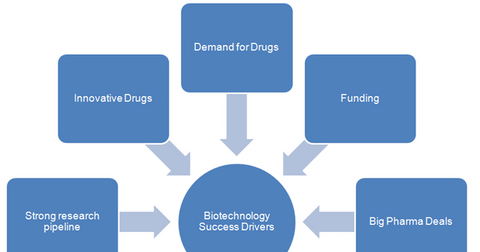 Commercial Growth Drivers of the Biotechnology Industry
By Margaret Patrick

Updated
Commercial growth
After 2012, the biotechnology industry (IBB) had a period of solid growth, mainly driven by novel scientific inventions and aggressive commercial distribution. This is reflected in improved investor sentiment, with the number of initial public offerings (or IPOs) in the US biotechnology sector rising from 53 in 2013 to 71 in 2014.
Article continues below advertisement
Supply factors
A strong research and development (or R&D) pipeline for innovative drugs targeted at unmet demand is the key driving force of the biotechnology industry. Drugs are clinically tested for efficacy and safety and then approved by the FDA (Food and Drug Administration).
Since biotechnology drugs generally involve special handling requirements, new drugs have to be substantially better than those already in the market. Otherwise, medical professionals and patients will avoid switching from pre-existing therapies.
This was one of the factors that drove the success of Gilead's (GILD) Hepatitis C drug Harvoni against competitor AbbVie's (ABBV) Viekira Pak. Both drugs were matched in efficacy, and Viekira Pak was even priced lower than Harvoni, but Harvoni is considered safer in terms of side-effects.  Also, Harvoni's prescribed dosage is one pill per day, and Vikera Pak is a twice-a-day dosage.
Article continues below advertisement
Demand factors
The majority of new innovations in the biotechnology industry targets cancer treatment. According to the National Cancer Institute, there are about 14 million new cancer cases and 8.2 million deaths from cancer every year. New cases are expected to reach 19 million by 2024.
With demand for cancer treatments expected to rise substantially, oncology has proved to be a huge opportunity for biotech companies. The industry also focuses on fulfilling the demand for Alzheimer's, multiple sclerosis, rheumatoid arthritis, and HIV (human immunodeficiency virus).
Funding and deals
Biotechnology companies such as Amgen (AMGN), Biogen (BIIB), and Regeneron require substantial capital for research and development efforts. These companies also require extensive resources for manufacturing, marketing, and distribution of drugs.
As more biotechnology companies post healthy earnings, it will affect overall public sentiment. Positive investor sentiment leads to increased availability of equity and debt from public markets, further strengthening R&D and boosting future earnings. Collaboration and M&A (merger and acquisition) deals with big pharmaceutical companies also give biotechnology companies access to required capital.