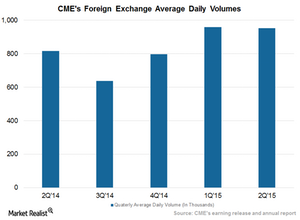 CME Group's Foreign Exchange Trade: High Growth in March, April
By Robert Karr

Updated
Foreign exchange
CME (CME) reported foreign exchange volumes of 1.0 million in 1Q15, up from 0.8 million in 1Q14. Foreign exchange volumes contribute almost 7% of the company's total volumes. The average rate per contract increased to $0.83 during the first quarter compared to 0.80 in 1Q14 and 0.76 in the previous quarter.
The overall increase in foreign exchange trade has been mainly triggered by exchange rate volatility caused by the strengthening US dollar and a change in expectations regarding a potential short-term interest rate increase by the Federal Reserve. The volatility caused by quantitative easing programs initiated by central banks throughout Europe helped in increasing euro contract volumes.
Article continues below advertisement
Electronic trading, volatility
Overall foreign exchange activity has been good for CME, FX volumes averaged about 725,000 per day in the first half of 2014. The volumes jumped to about 875,000 in the second half of 2014. In March 2015, the company saw volumes of 1.1 million contracts per day. In April, CME recorded about 40% growth compared to the previous year. Foreign exchange options have seen a ninefold rise in the average daily volume since 2009, mainly powered by electronic trading.
Foreign exchange volumes have been good for large commercial banks and the company's other competitors. Open interest in foreign exchange is at peak levels, resulting in a higher activity. The company registered earnings per share or EPS growth of 22.5% in the first quarter of 2015. Compare to its peers:
Together, these companies form 1.91% of the Financial Select Sector SPDR Fund (XLF) and 0.35% of  the SPDR S&P 500 ETF (SPY).