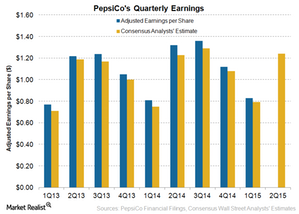 Will PepsiCo's Earnings Stay Ahead of Wall Street in 2Q15?
PepsiCo's performance versus estimates
In two days, PepsiCo (PEP) will announce its 2Q15 results. The quarter ended on June 13, 2015. PepsiCo's adjusted earnings per share (or EPS), which excludes the impact of non-recurring items, exceeded consensus Wall Street analysts' estimates in 1Q15 and in all four quarters of 2014 and 2013.
Article continues below advertisement
Previous quarter earnings
PepsiCo's adjusted EPS in 1Q15 grew by 2.5% to $0.83 from the corresponding quarter of the previous year. One-time items that impacted first quarter earnings included a $65 million impairment charge related to PepsiCo's dairy joint venture. It also included a gain of $39 million related to refranchising of a portion of the India bottling operations. Including these one-time items, PepsiCo's reported earnings increased by 2.5% to $0.81 on a year-over-year basis.
Adjusted EPS of rivals Coca-Cola (KO), Dr Pepper Snapple (DPS), and Monster Beverage (MNST) increased by 9.1%, 9.5%, and 17.5%, respectively, in 1Q15 compared to the corresponding quarter of the previous year. Coca-Cola and PepsiCo together account for more than 1.6% of the portfolio holdings of the SPDR S&P 500 ETF (SPY).
Currency headwinds
In the guidance issued in April 2015, PepsiCo indicated a greater impact of currency fluctuations on its fiscal 2015 earnings. The company expects currency headwinds to impact its fiscal 2015 core EPS by 11% compared to its previous estimate of 7% issued earlier this year. Currency headwinds are expected to drag down PepsiCo's core EPS in 2Q15 by 12%.
PepsiCo also expects higher interest expenses resulting from increased debt balances and a higher tax rate to impact the 2Q15 bottom line.