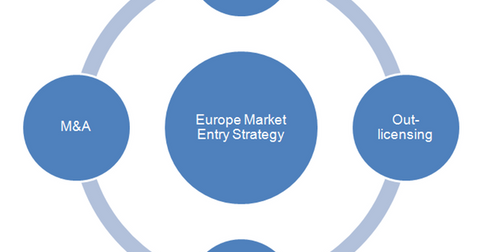 Market Entry Strategies for Biotechnology in Europe
By Margaret Patrick

Jul. 14 2015, Updated 1:05 p.m. ET
Market entry strategies
With a population of about 503 million, Europe is the second largest market for the biotechnology industry (IBB). Germany, France, and the United Kingdom account for a major portion of the demand in Europe.
Article continues below advertisement
Direct launch
When a US biotechnology company uses market entry strategies to launch its drug directly in the European market, it has to bear all the expenses related to the drug approval process in Europe. The European Medicines Agency (or EMA) is the body responsible for regulating drugs in Europe.
Costs escalate further because the company is also responsible for setting up the distribution network in Europe and commercializing the drug. However, direct launch can also ensure retention of all profits by the biotechnology company. Gilead (GILD) launched its HIV drug Truvada, and AbbVie (ABBV) launched its Hepatitis C drug Viekira Pak through the direct launch route.
Out-licensing
In out-licensing, a US biotechnology company sells the rights of a potential or developed biologic drug to a European company so it can further develop, market, and distribute the drug. The European company pays the US biotechnology company a fee. The US company bears lower expenses related to drug approval and commercialization, but it gives up its right to earn excess profits in the European market.
Article continues below advertisement
Joint venture
US biotechnology companies have also entered into joint ventures with existing European or other international players, mainly to introduce generic biotech drugs or biosimilars into the European market. The joint venture helps the US company better manage its costs and risks in new markets while retaining partial ownership of the drug's profits. Samsung Bioepis, a joint venture between Biogen (BIIB) and Samsung, plans to introduce a biosimilar for Remicade to treat rheumatoid arthritis.
Mergers and acquisitions
Tax benefits are a key driver of biotechnology acquisition activity in Europe. Tax reduction is implemented through an inversion deal structure where the US company shifts the corporation's legal domicile to a place with a lower tax rate.
Both Pfizer (PFE) and AbbVie have attempted to enter into inversion deals, but they were unable to complete them. In February 2015, Mylan (MYL) completed an inversion deal with Abbott Laboratories and created a joint entity based in The Netherlands. The deal is expected to reduce Mylan's tax rate in the next few years.