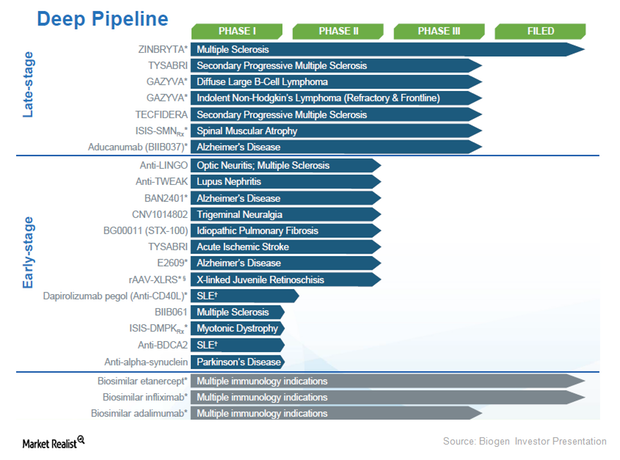 Biogen: Positive 2Q15 Results for Multiple Sclerosis Pipeline Drugs
Pipeline drugs
In 2Q15, Biogen (BIIB) posted mixed results for its pipeline drugs. Investor sentiment remained favorable for its innovative multiple sclerosis (or MS) drugs and research program for patients with spinal muscular atrophy.
The above diagram shows Biogen's research and development (or R&D) pipeline in 2Q15, distributed across different clinical phases and disease areas.
Article continues below advertisement
Article continues below advertisement
Multiple sclerosis pipeline
Biogen and collaboration partner AbbVie (ABBV) are currently planning to launch Zinbryta, a new drug for relapsing MS patients. The drug is under regulatory review and is expected to be a strong addition to Biogen's MS portfolio.
Biogen is anticipating Phase 3 results for its existing drug Tysabri, currently treating relapsing remitting multiple sclerosis (or RRMS) and primary progressive multiple sclerosis (or PPMS) patients in the later part of 2015. The drug is being tested to extend the therapy to the next stage, secondary progressive multiple sclerosis (or SPMS), a condition manifested in about 30% of total MS patients. Currently, there's no proven therapy for SPMS. Biogen has also received Phase 2 results indicating that Tysabri might be effective medication in post-stroke therapy. These alternative uses of Tysabri can lead to higher future revenues from the drug.
Biogen is expecting Phase 2 results of anti-LINGO therapy for MS in 2016. Other available MS therapies such as Teva Pharmaceutical's (TEVA) Copaxone, Sanofi's (SNY) Aubagio, and Novartis's (NVS) Gilenya slow the course of the disease. Anti-LINGO therapy is expected to have restorative action in MS patients. To learn more about Biogen's MS R&D pipeline, please refer to our article Biogen's Research and Development Pipeline.
Spinal muscular atrophy
Biogen has entered into a collaboration with Isis Pharmaceuticals to develop a therapy for spinal muscular atrophy. The drug development program, known as SMNrx, is currently in the last of the clinical trials phase. The company expects to receive positive phase 3 data in late 2016 or early 2017.
Investors can get exposure to Biogen's MS pipeline while reducing company-specific risks by investing in the iShares NASDAQ Biotechnology ETF (IBB). IBB holds 7.48% in Biogen stock.