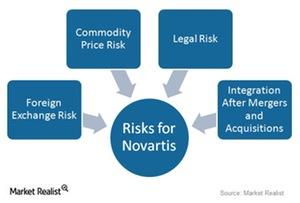 What Risks Does Novartis Face?
Article continues below advertisement
Article continues below advertisement
Risks for Novartis
Novartis (NVS) faces a unique combination of risks in addition to the industry-specific risks of the pharmaceutical industry.
Foreign exchange risk
Novartis operates globally and therefore uses the US dollar as its reporting currency. The group is exposed to foreign exchange risk primarily in European, Japanese, and emerging market currencies. Also, its expenses in Swiss francs are higher than its income in Swiss francs. The company's exposure to foreign exchange risk affects its reported sales and earnings, as well as its assets and liabilities.
Article continues below advertisement
Commodity price risk
Novartis has very limited exposure to price risks related to the purchase of certain commodities such as raw materials. Any changes in those prices could only affect its gross margins by a maximum of 10%. The company considers this level to be within the limits specified by its risk management strategy. As a result, Novartis doesn't invest significantly in any commodity futures, nor does it hedge against commodity price fluctuations.
Legal risk
Novartis is exposed to legal risks, including patent litigations, other product-related litigation, commercial litigation, government investigations, and prohibition rules. The company has experienced many legal issues related to its marketing activities. In 2013, the US government filed a complaint against Novartis regarding the marketing practices of some of its cardiovascular medicines.
Integration after mergers and acquisitions
Following a merger, Novartis tries to minimize integration risk with a decentralized management structure. The company has over 200 subsidiaries.
The company has divested its vaccines business to GlaxoSmithKline (GSK) and entered a joint venture for its OTC business with GlaxoSmithKline's Consumer Healthcare business. The company also divested its Animal Health business to Eli Lily (LLY).
Novartis forms about 5.5% of the VanEck Vectors Pharmaceutical ETF (PPH). Johnson & Johnson (JNJ) forms over 5.3% of PPH.