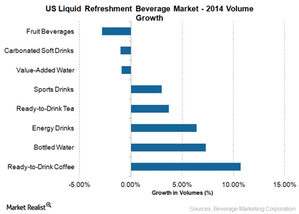 Are Parents Driving Energy Drink Sales in the US?
Parents lead energy drink consumption
As shocking as it may sound, a higher proportion of US households with children are consuming more energy drinks—compared to those without children. According to Mintel, the likelihood that US households with children will consume energy drinks and shots is 58% and 48%, respectively. In comparison, the likelihood that households without children will consume energy drinks and shots is low at 27% and 18%, respectively.
Article continues below advertisement
Article continues below advertisement
Rise in consumption
Mintel's survey indicates that about 68% of fathers are energy drink consumers. They increased their energy drink consumption rate by 28%. Despite heavy criticism and rising litigation, energy drinks continue to appeal to US parents. The percentage of mothers who consume energy drinks is higher compared to adults without kids. Mintel states that 38% of mothers are energy drinks consumers—compared to 34% of men and 22% of women who consume energy drinks and don't have kids.
Category strength
According to Beverage Marketing Corporation, energy drink volumes rose by 6.4% in 2014. The category outperformed other beverages like ready-to-drink tea, sports drinks, and carbonated soft drinks. Carbonated soft drinks are the largest category in the US liquid refreshment beverage market. It has been facing falling volumes in the US market in the past ten years.
This has adversely impacted soda giants like PepsiCo (PEP), Coca-Cola (KO), and Dr Pepper Snapple (DPS). These companies are developing products in growth categories like energy drinks and ready-to-drink tea. Coca-Cola's strategic partnership with Monster Beverage (MNST) gives it access to the high growth energy drinks category. Monster Beverage accounts for over 0.1% of the iShares Core S&P 500 ETF (IVV).
Mintel's survey indicates that older Millennials strongly agree that energy drinks and shots are good substitutes for alternative caffeine beverages. About 65% of older Millennials find energy drinks to be better substitutes than coffee, while 64% feel that energy drinks are better than carbonated soft drinks. The preference for other beverages is reflected in the 1% fall in carbonated soft drinks' volumes in 2014—based on the data provided by Beverage Marketing Corporation.
In the next part of this series, we'll discuss the importance of Millennial consumers.