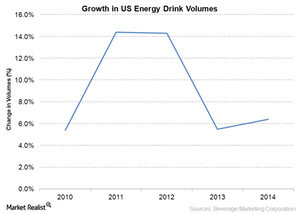 Mintel Forecasts Strong Growth in the US Energy Drink Market
Strong growth
Based on a recent survey, global research firm Mintel expects the US energy drink market to grow by an estimated 52% from 2014 to 2019. As we discussed previously in this series, older Millennials and US parents are key energy drink consumers. Mintel expects the energy drink market to touch $10.8 billion in 2015.
The US energy drink and shots market grew by 56% between 2009 and 2014, even though the category was entangled in litigation and had negative publicity in 2013. Monster Beverage (MNST) and Red Bull were under fire in 2013 for marketing their products to children, despite concerns about the perceived health implications like seizures caused by the energy drinks' high caffeine content.
Article continues below advertisement
Growth in US energy drink volumes
According to Beverage Marketing Corporation, volumes of US energy drinks rose by 6.4% in 2014—compared to 5.5% in 2013 and 14.3% in 2012. The rapid growth in this category is attracting new players. In 2015, leading direct selling company Amway acquired the XS Energy drinks brand. With the completion of its strategic partnership with Coca-Cola (KO), Monster Beverage is now better positioned to capture international growth opportunities and fight its closest rival Red Bull. PepsiCo (PEP) is also expanding its energy drink portfolio under the Mountain Dew Kickstart and AMP Energy drink brands.
Together, Coca-Cola, PepsiCo, and Monster Beverage account for over 1.7% and 14.8% of the portfolio holdings of the iShares Core S&P 500 ETF (IVV) and the Consumer Staples Select Sector SPDR Fund (XLP), respectively.
Weakness in the energy shots category
Energy shots are concentrated forms of energy drinks. They account for 11% of the market share, while energy drinks hold 89% of the US market share. According to Mintel's survey, Millennials and parents have consumed less energy shots. Energy shots sales are expected to fall in 2015. This is the third straight year with a fall in the category.
For more updates, visit our Nonalcoholic Beverages page.