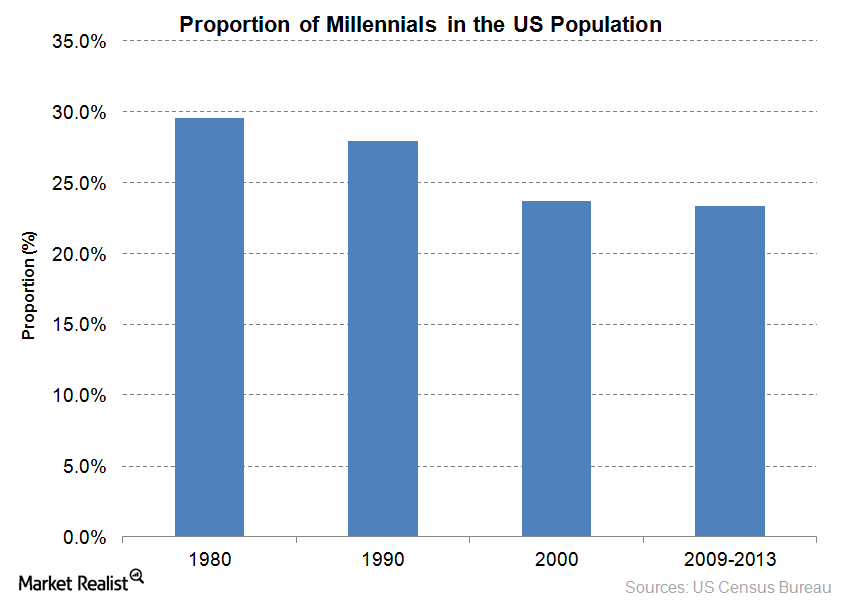 Why Are Millennials a Key Demographic for Monster Beverage?
Millennials are high on energy
Millennials—specifically the older Millennials in the 27–37 years age group—have emerged as the key consumers of energy drinks and shots. According to a recent survey by Mintel, 64% of the older Millennials are consuming energy drinks. About the same percentage of younger Millennials in the 18–26 year age group are consuming energy drinks. However, older Millennials are consuming more energy drinks.
Article continues below advertisement
Article continues below advertisement
According to Mintel, 29% of older Millennials consumed more energy drinks in the past three months—compared to 22% who consumed less. The trend reverses in the case of younger Millennials. The proportion of younger Millennials who are consuming more energy drinks is 16%, while 27% are consuming less.
Millennials
The U.S. Census Bureau classifies the population in the 18–34 year age group as "Millennials." According to the latest projections, Millennials are expected to grow to 75.3 million in 2015, surpassing the projected Baby Boomer population of 74.9 million. However, the proportion of Millennials is falling. In 2013, Millennials accounted for 23.4% of the US population—down from 23.7% in 2000 and 28% in 1990.
Millennials are important for energy drink makers
Millennials are a key demographic for energy drink makers like Monster Beverage (MNST) and Red Bull. Monster Beverage's advertisements specifically target this tech-savvy demographic. Monster Beverage sponsors adventure sports, rock bands, and music concerts primarily to cater to the Millennial consumers. Millennials are also a key consumer category for soda giants Coca-Cola (KO) and PepsiCo (PEP). In January 2015, PepsiCo launched two new flavors under its Mountain Dew Kickstart brand to attract the young Millennials.
Monster Beverage accounts for over 0.1% and 1.3% of the portfolio holdings of the SPDR S&P 500 ETF (SPY) and the Consumer Staples Select Sector SPDR Fund (XLP), respectively.