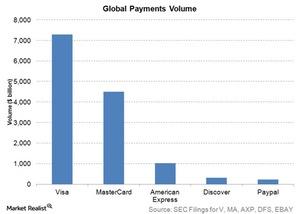 MasterCard Operates in an Intensely Competitive Payments Industry
Cash and checks are MasterCard's biggest competitors
MasterCard (MA) faces competition not only from other payment processors, but also from cash and checks. The most widely used forms of payment, cash and checks constitute ~85% of the retail payment transactions worldwide.
However, electronic payment methods are increasingly replacing cash and check payments globally. This shift benefits payment companies such as MasterCard.
Article continues below advertisement
Payment networks
MasterCard competes worldwide with payment networks such as Visa (V), American Express (AXP), and Discover (DFS), among others. Visa has a much greater volume than MasterCard in the global payments industry. In some countries, other networks may have a leading position.
For example, the JCB (Japan Credit Bureau) network has a leading position in its domestic market in Japan. The above chart shows the global payments volume for Visa, American Express, MasterCard, Discover, and PayPal. PayPal's volume includes the volume funded by other payment cards.
Three-party payment networks
MasterCard competes with operators of several three-party payment networks, such as American Express and Discover. These companies also act as the acquirer and issuer for their transactions. Three-party networks' competitive advantages over four-party payment systems include fewer regulations, as they don't need to pay separate interchange fees.
Debit market
MasterCard's competitors in the debit market include Interlink, Plus, Visa Electron, Star, NYCE, and Pulse. Moreover, in many countries, local debit networks dominate, while MasterCard products are used mostly for cross-border transactions.
Cross-border transactions generally account for a small part of the overall transaction volume, limiting MasterCard's share in the market. MasterCard forms ~2.2% of the Technology Select Sector SPDR Fund (XLK).