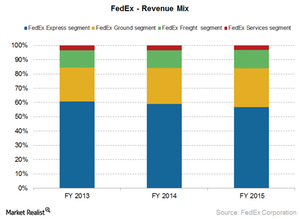 A Key Analysis of FedEx's Business Model
FedEx business model
FedEx (FDX) is the parent company that provides logistical and strategic support for its operating divisions—FedEx Express, FedEx Ground, FedEx Freight, and FedEx Services. These various entities compete collectively. They're managed cooperatively under the FedEx brand name, but operate relatively independently from one another.
Article continues below advertisement
Business portfolio and groups
Currently, FedEx is the global leader in the express delivery market. It offers delivery to and from individuals and businesses. The company provides various services under the following business units:
FedEx Services – This business group was formed in 2000 and it incorporates the FedEx Office and FedEx TechConnect businesses. It provides solutions for global supply chains, e-commerce, and data management services to its customers.
FedEx Express – This business is the first service that was provided by the company. It includes time-sensitive, air-ground express services. This business group was formed in 1971. Today, it has a strong network across 220 countries and territories globally. It incorporates FedEx Trade Networks and FedEx Supply Chain businesses.
FedEx Ground – Formed in 1985, this segment provides its customers in the US and Canada with reliable business-to-business and residential delivery services through FedEx Home Delivery and FedEx SmartPost.
FedEx Freight – This business segment provides LTL (less-than-truckload) shipping services across the US, Canada, Mexico, Puerto Rico, and the Virgin Islands. It incorporates FedEx Custom Critical and was formed in 2001. It has the fastest published transit times across any nationwide LTL service.
Seasonality of business
The courier business is cyclical in nature. Seasonal fluctuations affect revenues, volumes, and earnings. Historically, late November and December have been the months with the largest volumes for the US express package business, due to the Christmas and New Year holidays. International business, particularly in the market from Asia to the US, peaks in October and November in advance of the US holiday sales season. The company has low volumes in the first and third quarters, due to summer vacation and the seasons after the winter holidays, respectively.
FedEx Ground – The fall is the busiest shipping period, while late December, June, and July are the slowest periods.
FedEx Freight – The spring and fall are the busiest periods. The later part of December through February is the slowest period.
FedEx Office – The summer months are normally the slowest periods.
FedEx forms the largest holding of 13.14% in the iShares Transportation Average ETF (IYT). Similar companies included in the ETF are United Parcel Service (UPS), Expeditors International (EXPD), and Con-way (CNW) with 7.6%, 4.19%, and 3.19% holdings, respectively.