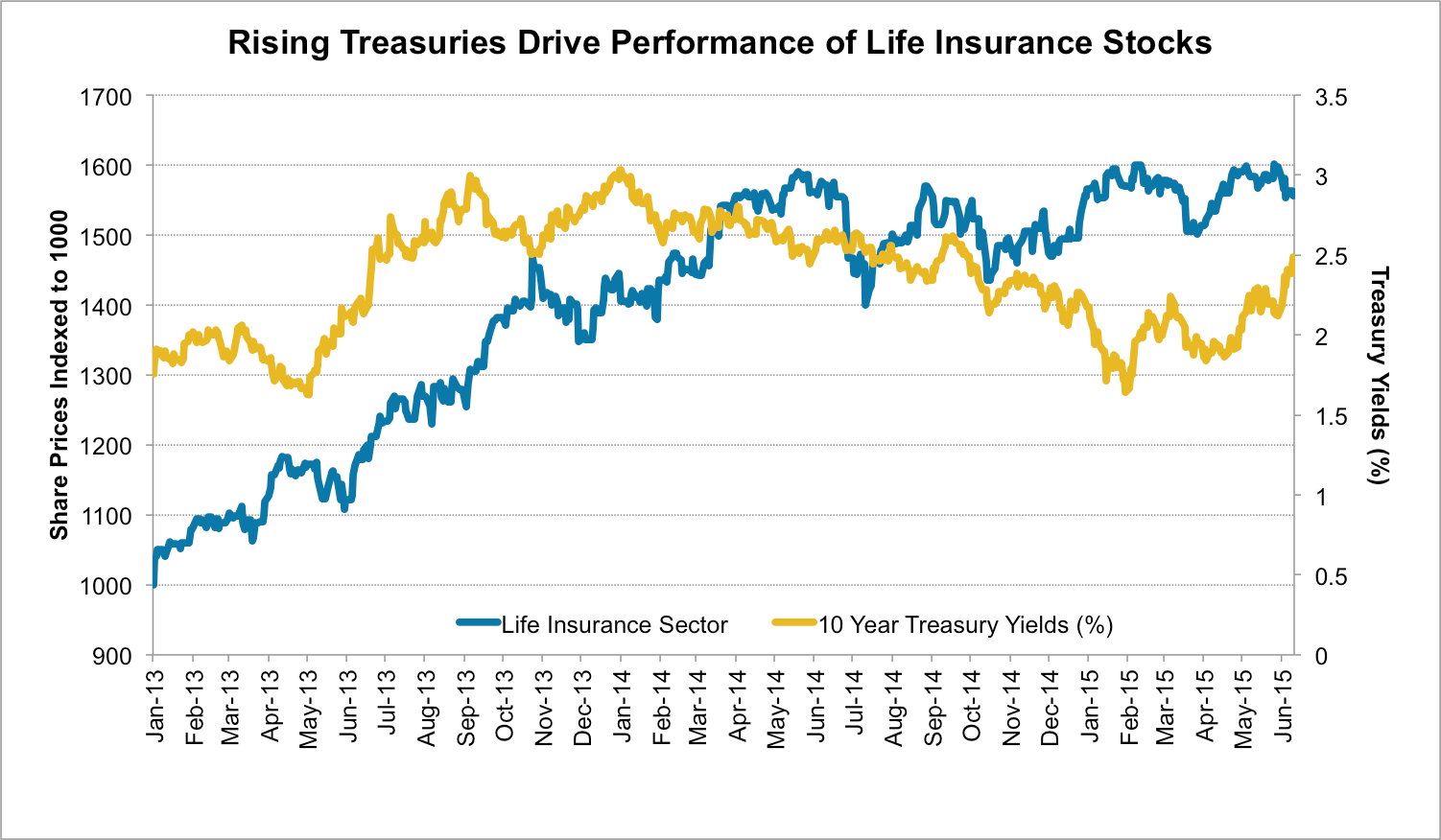 Insurance Stocks: Power Play on Rising Interest Rates
By Rebecca Keats

Jun. 12 2015, Published 12:55 p.m. ET
Margin pressures ease as interest rates rise
With the Federal Reserve's quantitative easing measures coming to an end, investors are worried about interest rates rising. The life insurance industry, however, stands to benefit.
Article continues below advertisement
Performance review
In 2013, life insurance stocks within the Financial Sector Select SPDR Fund (XLF) surged by 59% when ten-year Treasury yields rose from 1.76% to 3.03%. Of course, 2013 was a time when broad-market equity performance was driven by continuous easing by the Fed and a positive economic trajectory in the US relative to the rest of the world. But the strong positive relationship is an important driver for the industry.
So far in 2015, life insurance stocks that form a part of XLF have climbed up 4.5%. Since just May, this same basket of stocks has gained 5.6%. The fact that we may now be seeing an end to bottom-of-the-barrel interest rates is no coincidence.
Winners and losers
Prudential Financial (PRU), Metlife (MET), and Unum Group (UNM) led the stellar performance in this subsector, gaining 5.81%, 7.62%, and 6.18%, respectively, in the last month. The worst performer, Aflac (AFL), was down by 2.65% in the same period. Still, 15 out of the 22 insurance components of XLF saw gains, with an average return of 3% as of June 11. The seven companies that lost ground averaged -2.38%.
Article continues below advertisement
Why the federal funds rate matters
Interest rates are a key performance driver for life insurance companies. Rates affect margins, hedging costs, and product sales. Lower interest rates directly affect the margins of insurers, whose product pricing is based on expected long-term average rates.
Rising interest rates are beneficial for life insurance companies. This is because they can derive income from investing premiums in corporate and government bonds. Yields and coupons on these bonds rise in response to the rise in the federal funds rate and banking interest rates. This enables life insurers to invest their premiums at higher yields, earn higher investment income, and increase profit margins.
Easy sailing ahead
For now, it seems safe to say that interest rates have bottomed out, especially if positive economic indicators continue to come out. The Fed is a data-driven team, and a positive trajectory in these indicators makes a rate increase imminent, likely as early as September by some estimates.
Margin pressures on life insurers have eased. The way forward is a rising yield curve, which translates to greater profitability for life insurers.