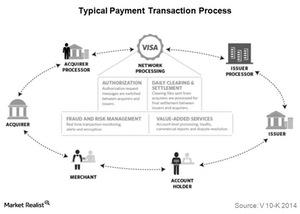 What Happens When You Swipe a Visa Card?
How transactions are processed
To understand Visa's (V) business better, investors should know what happens when a customer uses a Visa card or product to make a payment. A typical Visa transaction involves four parties:
The merchant is any entity, like a restaurant, store, or online retailer, that accepts Visa products as payment.
The acquirer is a financial institution that enlists merchants to accept Visa payments. The acquirer ensures merchants get paid for each transaction.
The issuer is a financial institution that provides Visa-branded cards to customers. When a Visa-branded credit card is used, the issuer lends the consumer the funds to complete the transaction. Examples of issuers include banks like JP Morgan or Citigroup.
The account holder is the customer using a Visa card or other payment product to make purchases.
Article continues below advertisement
When account holders use their card to make a payment, the transaction process begins. The transaction information is transmitted electronically to the acquirer and routed through Visa's network to the issuer for authorization. Once authorized, the acquirer submits a file containing the final transaction data, and it is processed for final settlement between the issuer and acquirer. The above figure shows the steps involved in a typical transaction.
Open-loop network
Visa's open-loop payments network connects and manages the exchange of information between issuers and acquirers. Visa doesn't earn revenues from interest or fees from account holders on Visa-branded cards or payment products.
Banks such as JP Morgan (JPM), Bank of America (BAC), and Citigroup (C) issue open-loop cards. The issuing banks provide the credit for purchases on these cards, whereas payments networks such as Visa and MasterCard (MA) settle the transactions.
American Express (AXP), on the other hand, has a closed-loop network. It acts as the acquirer and issuer for its transactions. Visa forms ~3.2% of the Technology Select Sector SPDR Fund (XLK).