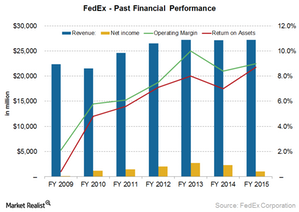 FedEx's Financial Performance and Long-Term Goals
Financial performance
FedEx's (FDX) financial performance during the last few years has been extraordinary. The company successfully bounced back from the recessionary downturn. The company set various goals under its profit improvement initiative in 2012. Since then, it has been focused on achieving the same. The company's long-term goals—like increasing profitable revenue, achieving 10% plus operating margin, and targeting 10%–15% annual EPS (earnings per share) growth—look achievable in the near future.
Article continues below advertisement
Revenue
FedEx's revenue rose by about 37% in the past five years from about $34.7 billion in 2010 to $47.5 billion in 2015. This growth in the top line has been in line with the economic recovery in the nation and the industry.
Operating income and margin
One of FedEx's key goals was to improve its operating margins. The margins fell to 2.1% in 2009. The company has been successful in implementing its cost-cutting and process streamlining initiatives, fleet modernization, and other initiatives. The initiatives helped it grow its adjusted operating margins to 9% at the end of fiscal 2015. The operating income also grew from $0.7 billion to $4.3 billion in the past six years.
Article continues below advertisement
Cash flow
The company has been successful in generating strong cash flows. The FCF (free cash flow) grew by 300% in the last six years.
Return on assets
ROA (return on assets) also improved continuously from 0.4% in 2009 to 8.7% in 2015. However, in 2015, the unadjusted ROA fell to 3% due to the mark-to-market pension costs.
FedEx's long-term financial goals
In 2009, when the company faced a severe financial impact due to the recession, it set some long-term goals for financial recovery. These included:
achieve 10%+ operating margin
increase EPS to 10%–15% per year
grow profitable revenue
improve cash flows
increase ROIC
increase returns to shareowners
Since then, the company is well on its path to achieve these goals.
FedEx forms the largest holding of 13.14% in the iShares Transportation Average ETF (IYT). Similar companies included in the ETF are United Parcel Service (UPS), Expeditors International (EXPD), and Con-way (CNW) with 7.6%, 4.19%, and 3.19% holdings, respectively.