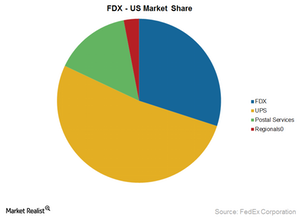 FedEx's Delivery Market Share Is Threatened by New Competitors
By Ally Schmidt

Jul. 6 2015, Updated 9:05 a.m. ET
Mobility creates new market opportunities
FedEx (FDX) was formed with a vision to change the way delivery services worked prior to 1971. It did this successfully. The company established a new industry and it has been leading its peers since then. However, with the fast-paced growth in mobile devices and e-commerce across the globe, smartphones, apps, and connected devices have created paths for a fast-growing market for on-demand delivery services.
Article continues below advertisement
The end consumers now demand better, faster, and more transparent services, irrespective of who provides it. This indicates that the new generation is less loyal to brands. It's also open to receiving deliveries from third parties. This led many e-commerce companies like Amazon (AMZN) and Uber to try their hands on the delivery business.
Even though the new entrants lack the size of a hub network that giants like FedEx and United Parcel Service (UPS) have established over the years, they're finding an alternative solution to these issues. Amazon is considering building an in-house package delivery system using a mobile app that would offer to pay individual customers to deliver packages. In contrast, Uber is planning to make double use of its ride-sharing service to deliver packages to customers along the route.
Expected impact on FedEx
The new entrants into the delivery business are focused mainly on ground-based local same-day delivery services. This business area forms a minor part of FedEx's portfolio. The air cargo delivery industry is capital intensive. It wouldn't be easy for new entrants to beat the network established by larger players.
However, the idea of third parties and regular individuals delivering packages might not be appealing to the end customers. Generally, customers expect some level of satisfaction with delivery. This consists of getting the delivery by authorized people from the company. This is pretty difficult to achieve or track through mobile apps.
Even with new entrants trying to make their way into the lucrative delivery business, as long as FedEx can continue to provide quality service to its customers, it will continue to stay above its competitors and new entrants.
FedEx forms a 2.18% holding of the PowerShares Buyback Achievers ETF (PKW). Similar companies included in the ETF are Expeditors International (EXPD) and Allegiant Travel (ALGT) with 0.4% and 0.14% holdings, respectively.