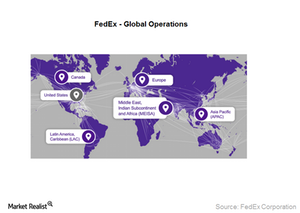 Why FedEx Is Expanding Its Global Reach
Global reach
FedEx (FDX) has assembled a portfolio of solutions, from express and freight forwarding to critical inventory logistics, that can solve any global commerce challenge. It serves more than 6.5 billion potential customers across 220 countries and territories around the globe.
Outside the US, the company provides its services to five regions:
Canada
APAC (Asia-Pacific)
Europe
MEISA (Middle East, Indian Subcontinent and Africa)
LAC (Latin America and Caribbean)
Article continues below advertisement
Expanding services in high-growth countries
With 90% of the world's growing population located outside the US, FedEx realized that it needed to take its operations beyond the US. With this aim in mind, FedEx started acquiring companies outside the US. It expanded its operation through acquisitions. We'll discuss its acquisitions in more detail in the next part of this series.
A growing population indicates rising demand for the company's services. FedEx identified countries with high population growth in order to expand its operation. The countries include China, Brazil, Mexico, and India. According to the UN Population Fund, the population growth in these countries is expected to be 4%, 14%, 19%, and 24% from 2010 to 2030.
In Mexico, FedEx acquired Multipack in order to grow quicker. In April 2015, it opened the most advanced FedEx Express distribution center in Latin America. The distribution center is just outside Mexico City. The same week it also opened a Northern Pacific hub in Osaka, Japan. The hub will improve the connection between the markets of the Americas, Asia-Pacific, and Europe.
The strategy seems to be working. International revenue grew by more than 50% from $653 million in 2011 to $1.4 billion in 2014.
FedEx forms the largest holding of 13.14% in the iShares Transportation Average ETF (IYT). Similar companies included in the ETF are United Parcel Service (UPS), Expeditors International (EXPD), and Con-way (CNW) with 7.6%, 4.19%, and 3.19% holdings, respectively.