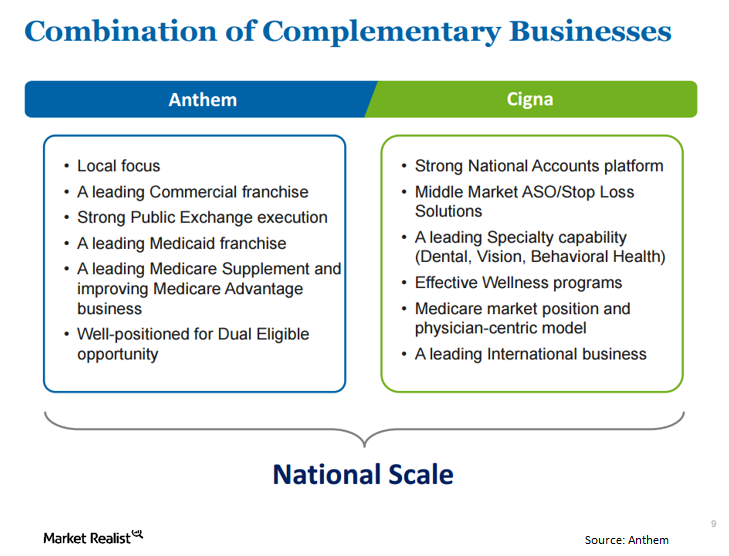 Anthem Files Bear Hug Letter for Cigna on June 21
Anthem proposes to buy Cigna for $184 a share
On June 21, Anthem Inc. (ANTM) filed a bear hug letter for Cigna (CI). A bear hug letter is a formal press release in which an acquiring company discloses to the market its interest in a target company. The point of a bear hug letter is to publicly force the target company's board of directors to pursue discussions. These letters are usually released after the potential acquirer runs into resistance from the target company.
Article continues below advertisement
Bear hug letters begin the big change in institutional ownership from longer-term strategic investors to arbitrageurs. The arbitrageurs take positions in the stock hoping to get a deal and will hopefully, from the acquirer's point of view, push the target's board of directors to engage in discussions.
Highlights from Anthem's letter
In the bear hug letter, Anthem referred to the offer as compelling, which means Anthem has room to bump its offer in order to get a recommendation from Cigna's board of directors. Anthem anticipates it will be more than 10% accretive to earnings in year one and double after year two.
Anthem and Cigna have been in on-again-off-again discussions since August 2014. Anthem initially offered $174 per share but then bumped it to $178, and then to $184. Corporate governance issues were a sticking point. Cigna wanted an eight-six board seat representation, and Cigna's CEO (chief executive officer) wanted a guarantee that he would be in charge after 24 months.
Article continues below advertisement
Cigna rejects that offer
Cigna rejected Anthem's offer almost immediately, citing concerns about Blue Cross Blue Shield litigation, Anthem's data breach in February, corporate governance concerns, and price. According to Cigna, these concerns have not been adequately addressed during negotiations. It's worth noting that Cigna didn't say it wasn't for sale. Since discussions have been going on for so long, it's clear that Cigna is open to being bought. At this stage, it's a negotiation over price.
Other merger arbitrage resources
Other important merger spreads include the Hospira–Pfizer deal. The Hospira (HSP) and Pfizer (PFE) merger is set to close in 2H15. For a primer on risk arbitrage investing, read Merger arbitrage must-knows: A key guide for investors.
Investors who are interested in trading in the healthcare sector should look at the S&P SPDR Healthcare ETF (XLV).