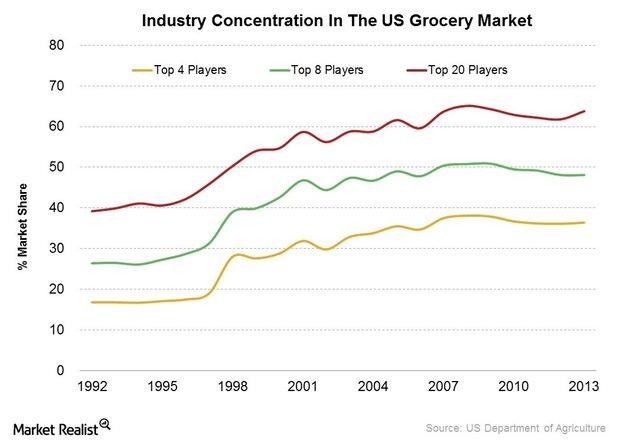 The Wal-Mart Impact on Food Price Deflation
Strategies for price leadership
As we've already seen in this series, US food at home prices declined for a second straight month in April, by 0.2%. Last month, Business Insider, citing the Wall Street Journal, said Wal-Mart (WMT), the world's largest retailer (XRT), has asked its suppliers to redirect spending on marketing and store displays to lower prices for products. Wal-Mart wants to pass cost savings down to its customers and compete more effectively with its grocery rivals.
Article continues below advertisement
Article continues below advertisement
An edge on supermarket sales
Major suppliers may not appreciate Wal-Mart's strategy. Effective marketing enables them to compete effectively with their own rivals. That's what marketing budgets are for. The impact of Wal-Mart's strategy could affect the overall grocery industry.
Industry impact
The US grocery industry is already highly concentrated, and the levels of concentration are increasing. The top four players account for 36% of the market share. Wal-Mart (WMT) and Kroger (KR) are number one and two, respectively. The US Department of Agriculture partly attributes the rise in industry concentration to the growth of Wal-Mart's supercenter format.
Article continues below advertisement
Solving Wal-Mart's price equation
Wal-Mart has been facing stiff competition from the dollar store trio—Dollar Tree (DLTR), Family Dollar Stores (FDO), and Dollar General (DG). At a recent strategy meeting, Wal-Mart reportedly ceded price leadership to some of its rivals, without naming them.
What starts as a competitive strategy for Wal-Mart may also affect the general level of grocery price inflation in the United States. US sales by Wal-Mart (WMT) made up 9%–10% of total US retail sales in 2012, excluding food services and motor vehicle and parts dealer sales. Wal-Mart's grocery sales in the United States came in at ~$194 billion in fiscal 2015, accounting for ~56% of the retailer's total sales.
Price wars
The grocery industry in the United Kingdom has been suffering from price deflation for several quarters. The entry of German discount chains Lidl and Aldi altered the competitive landscape immensely. The overall industry size is contracting due to heavy discounting by supermarkets in a bid to maintain market share. It's affecting results for the four major UK supermarket chains, including Wal-Mart's own ASDA Stores.