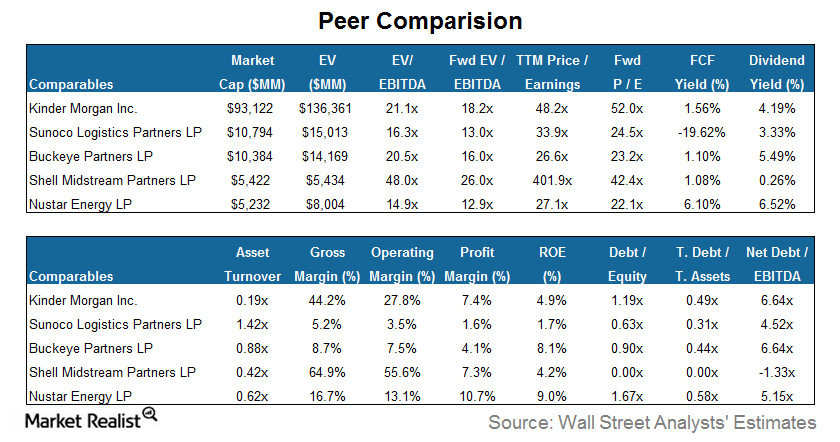 Why Sunoco Logistics Has the Lowest Profit Margins
Distribution yield
In an MLP, distribution yield is the amount of cash distribution per unit relative to the unit price. Typically, MLPs with a strong distribution growth history and sufficient growth projects have a lower distribution yield.
Sunoco Logistics Partners' (SXL) distribution yield of 3.33% is lower than the group average of 3.96%. On the bearish side, this might indicate that the stock is overvalued. On the bullish side, this might indicate that SXL's strong expected distribution growth is driving its valuations.
Article continues below advertisement
Among its peers, Buckeye Partners (BPL) has the highest distribution yield of 5.49%, while Kinder Morgan's (KMI) dividend yield of 4.19% is at par with the group average. SXL is part of the Alerian MLP ETF (AMLP) and the First Trust North American Energy Infrastructure Fund (EMLP). SXL makes up 4.87% of EMLP.
Profit margin and ROE
Sunoco Logistics has the lowest profit margin and ROE (return on equity) among its selected peer group. SXL's profit margin and ROE of 1.6% and 1.7%, respectively, are well below the group average of 6.2% and 5.6%, respectively. This is because the Crude Oil Acquisition and Marketing business has very thin operating margins, which brings overall margins down.
During 2014, the Crude Oil Acquisition and Marketing business generated an operating loss of -$124 million, while revenue stood at $16.4 billion. During 2013, the segment's operating margin was 1.2%.
Debt levels
Sunoco Logistics (SXL) has the lowest net-to-EBITDA (earnings before interest, taxes, depreciation, and amortization) ratio among the selected peer group. This is a result of the company's commitment to maintain its investment grade credit rating.
Lately, SXL maintained its debt level by raising capital through an ATM (at the money) offering. The program allows a company to directly issue common units to the public and raise capital in a timely and efficient manner in order to finance growth capital.
For the year ended December 31, 2014, Sunoco Logistics raised $477 million through the issuance of common units under the ATM program. SXL's management announced in its latest earnings release that it will continue using the ATM offering opportunistically.