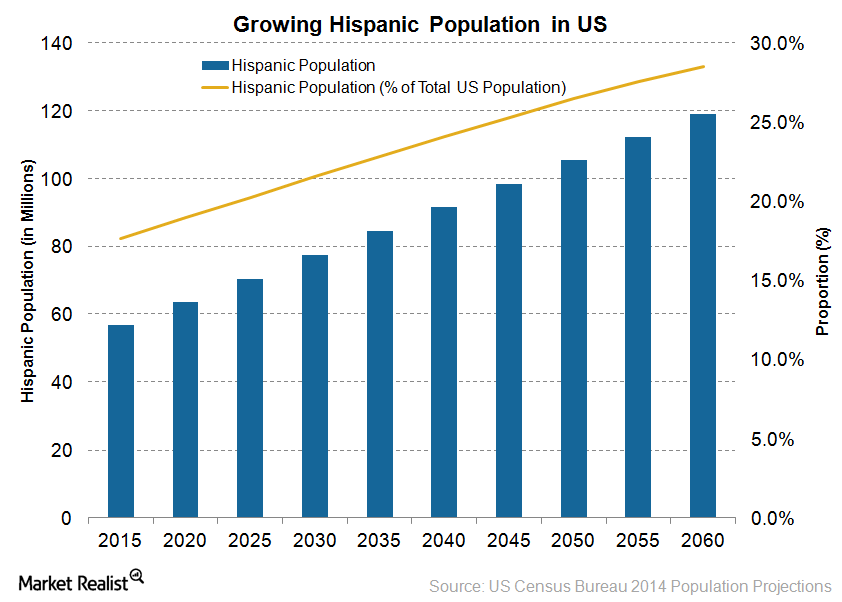 Why PepsiCo and Its Peers Are Focusing on Hispanics in 2015
Products based on Hispanic choice
PepsiCo (PEP) and peers like Coca-Cola (KO) and Dr Pepper Snapple (DPS) have been developing several products based on the tastes and preferences of Hispanics, or the Latino population. In part 1 of this series, we looked at PepsiCo's recent launch of Pepsi Limon, a flavored cola drink that targets Hispanic consumers.
Article continues below advertisement
Article continues below advertisement
Hispanics: A vital demographic
Based on the United States Census Bureau's 2014 population projections, the Hispanic or Latino population is expected to account for 17.7% of the total US population in 2015 and 19.0% by 2020. The Hispanic population accounted for 16.3% of the US population in 2010. The Hispanic population in the United States has continually grown over the past few decades. Based on the latest projections, the Hispanic population is expected to touch 57 million in 2015.
PepsiCo's focus on Hispanics
PepsiCo has always considered the Hispanic community an important consumer group. In addition to beverages, the company has also developed several flavors of snack food brands like Doritos and Cheetos with Hispanic tastes and preferences in mind. Most of these flavors also resonate with non-Hispanic consumers.
Even the company's marketing efforts are designed to attract Hispanic consumers. In the past, PepsiCo's ads have featured popular Latino stars like actress Sofia Vergara and actor William Levy.
Peers like Coca-Cola and Dr Pepper Snapple also focus on this important demographic. In December 2014, Coca-Cola launched Haz Feliz a Alguien, a feel-good holiday campaign that encouraged the Hispanic community to do small acts of kindness.
Dr Pepper Snapple is expanding Penafiel, its popular mineral water brand in Mexico, to the US market. The company announced its marketing campaign with Mexican soccer player Héctor Herrera.
PepsiCo, Coca-Cola, and Dr Pepper Snapple together account for ~14.5% and 1.7% of the portfolio holdings of the Consumer Staples Select Sector SPDR Fund (XLP) and the SPDR S&P 500 ETF (SPY), respectively.