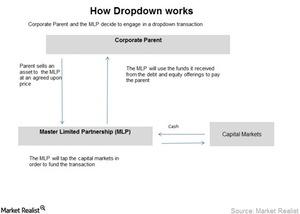 How Do Master Limited Partnerships Grow?
MLP growth
MLPs normally pay out all the available cash to the unit holders in the form of quarterly cash distribution. They hold only the maintenance capital expenditure, so there is little cash left. A GP (general partner) can help the MLP to sustain the current cash distribution yield and improve it over a period of time.
Article continues below advertisement
MLP growth strategies
MLPs grow in the following ways:
Asset growth: It usually takes time for MLPs to build infrastructure. Plus, it requires huge capital expenditure, which can be funded through a mix of debt and equity. Regulatory approval is also required.
Dropdown from the parent company or a sponsor: Dropdown of assets from the parent company is the easiest way for MLPs to grow. MLPs that have a parent or a sponsor have a clear advantage as compared to MLPs who don't.
Acquisitions: MLPs can grow by acquiring other company's assets, but it becomes challenging when there is fierce competition for acquisitions.
Tariff increase or volume growth: Tariff increase and volumetric growth can help increase the cash surplus of the MLP, which can be utilized to fund the acquisition of assets.
The above graph shows that the dropdown of assets by a GP is a significant growth avenue for MLPs.
Targa Resources (NGLS), ONEOK Partners (OKS), DCP Midstream Partners (DPM), and Spectra Energy Partners (SEP) are some of the MLPs backed by a GP. These companies have a combined weight of 10.18% in the Global X MLP & Energy Infrastructure ETF (MLPX).
In the next part of the series, we'll discuss how MLPs fund their growth.