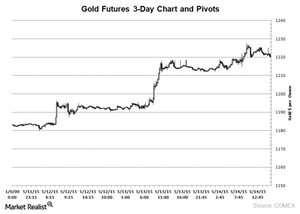 Gold Prices Extend Rally on Depreciating Dollar
Gold price up for the third day
This series provides an analysis of gold prices and market fundamentals. For an in-depth look at gold and related companies, sectors, and drivers, please refer to our Gold ETFs page.
Gold futures for June delivery that trade on the COMEX (Commodity Exchange) rose marginally by 0.57% on May 14, 2015, and closed at $1,225.20 per ounce. Gold prices increased for the third day, led by the declining dollar. ETFs such as the iShares Gold Trust (IAU) and the SPDR Gold Trust (GLD) reflected gold's price movement in yesterday's trading. In contrast, the VanEck Vectors Gold Miners ETF (GDX) fell marginally on Thursday's trade.
An increase in gold prices is positive for gold miners such as Anglo Ashanti gold (AU), Alamos Gold (AGI), and Royal Gold (RGLD). These stocks account for 8.56% of the VanEck Vectors Gold Miners ETF (GDX).
Article continues below advertisement
Delayed rate hike boosts gold
Consensus that the Federal Reserve will delay the interest rate hike until later this year boosted sentiment there could be a gold price rally. As expected, the dollar depreciated against major currencies. The US dollar index consists of six major world currencies:
euro
yen
pound
Canadian dollar
Swedish krona
Swiss franc
The US dollar index declined by 0.16% on Thursday's trade. The survey suggests the Federal Reserve will hike the interest rate by September 2015.
Higher demand
Increased demand from India also supported gold prices. Gold imports totaled 111 tons in April 2015 and are at 60 tons so far in May, according to industry estimates.
India is one of the largest consumers of physical gold. Accelerating economic conditions support the increase in demand. The demand from China is slowing down due to slowing economic growth. China and India make up 50% of global gold demand.
This is the fifth up day for gold prices in the last ten days. Prices increased by 0.72% more on the average up days than on the average down days over the last ten trading sessions. Gold futures for June delivery performed poorly compared to other commodities on Thursday's trade. Gold prices rose marginally by 0.72% year-to-date, led by the weak dollar and improving demand from India.