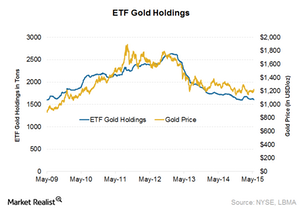 Gold ETF Holdings Fall to 4-Month Low Led by the SPDR Gold Trust
Gold ETF hodlings declining
In our last update on ETF holdings, we reported that the SPDR Gold Trust's (GLD) gold holdings had declined by close to 13 tons in the week ending May 8. This was the largest single-day drop since October 8, when holdings fell by 12.8 tons.
Total known ETF holdings in gold were reported to be 1,615.13 tons as of May 8. Since then, gold holdings have declined by an additional 12.03 tons, mostly led by GLD. GLD's holdings stood at 714.2 tons as of May 20. Total known gold ETF holdings stood at 1,603.1 tons on May 20. This is the lowest level since mid-January.
Article continues below advertisement
Article continues below advertisement
Gold ETF holdings reached a peak of 1,679.8 tons on February 24. In January and early February, gold holdings surged because of the Swiss National Bank's decision to remove the euro cap. Also, the European Central Bank introduced easing measures amid slow growth and uncertainty over the then upcoming Greek elections. This move encouraged gold holdings.
Investors may now be taking advantage of the current higher gold prices to close their positions in gold.
Why you should track gold ETF holdings
Outflows from ETFs led to a ~28% fall in gold prices in 2013. That's the equivalent of selling a combined 881 tons of gold. ETFs hold substantial amounts of physical gold and silver. According to World Gold Council data, ETFs accounted for close to 9.2% of all the gold investment demand in 1Q15. That's why it's important for investors to track any sustained or significant buying or selling activities by these ETFs.
Impact on precious metals
ETFs are large holders of physical gold. Any negative sentiment is felt across the market. As a result, when ETFs sell off it's negative for gold prices and stocks such as Sibanye Gold (SBGL), B2Gold (BTG), Hecla Mining (HL), and Silver Wheaton (SLW). It's also negative for the VanEck Vectors Gold Miners ETF (GDX). Silver Wheaton accounts for 4.8% of GDX's holdings.