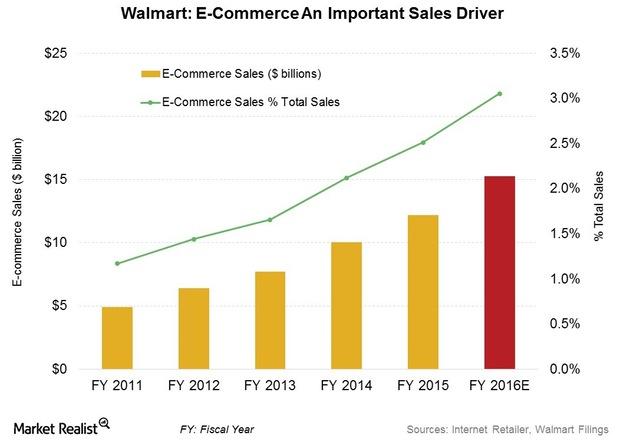 E-Commerce Should Spark Walmart's Fiscal 1Q16 Performance
<p>Walmart announced it was testing unlimited shipping for $50 per year, presenting significant competition to Amazon&#8217;s Prime service.</p>
Walmart to report fiscal 1Q16 earnings
Walmart (WMT), the world's largest retailer, will report its fiscal 1Q16 results for the current fiscal year on May 19[1. Quarter ended April 30, 2015]. Consensus Wall Street analyst estimates expect the company to report revenues of $116.3 billion, up 1.1% from $114.9 billion in 1Q15.
Article continues below advertisement
Article continues below advertisement
E-commerce initiatives and prospects
Higher e-commerce sales should be a major growth driver for Walmart, both in the current quarter and in years to come. Over the past five years, Walmart has grown its overall sales at a CAGR (or compounded annual growth rate) of 3.5% to $485.7 billion in fiscal 2015. In comparison, Walmart's e-commerce sales grew 21.2% year-over-year to ~$12.2 billion in fiscal 2015.
Target (TGT), Walmart's (WMT) main competitor, reported an even higher growth rate in online sales, albeit from a smaller base. Target's e-commerce sales grew 30% year-over-year to ~$3 billion in the last fiscal year.
This year, or fiscal 2016, Walmart expects its e-commerce sales to grow at an even faster clip. The company is projecting growth in the mid-20s percentage range, outpacing global growth rates in e-commerce. Assuming a 25% growth rate, this translates to web sales of ~$15 billion, or ~3% of total sales. We'll delve into the company's e-commerce guidance in more detail in Part 5.
Article continues below advertisement
Amazon challenge
On May 13, Walmart announced it was testing unlimited shipping for $50 per year. This would present significant competition to Amazon's (AMZN) Prime service, which costs $99 a year and has been operational for about ten years[2. Source: Mashable].
Same-store sales
E-commerce also tended to improve Walmart's same-store sales metrics. Its e-commerce growth boosted the reported same-store sales metric by 0.3% in 4Q15 for Walmart US. In the next article, we'll discuss same-store sales and other revenue drivers.
Walmart (WMT) constitutes 0.7% of the portfolio holdings in the SPDR S&P 500 ETF (SPY) and 2.9% of the SPDR Dow Jones Industrial Average ETF (DIA), respectively.