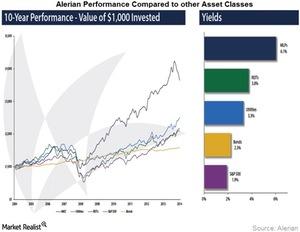 The Advantages and Disadvantages of Investing in MLPs
Investment rationale for investing in MLPs
In this article we'll look at the reasons that investors would want to consider investing in master limited partnerships (or MLPs). MLPs clearly stand out when compared to other asset classes because of their structure, yields as compared to other asset classes, stability of cash distribution, less correlation with the stock market, less commodity price exposure, and fee-based models that lead to revenue stability.
Article continues below advertisement
The above graph shows that the Alerian MLP ETF (AMLP) has outperformed other asset classes since 2000. Its current yield stands at 6.1% as compared to 3.9% for REITs, 2.5% for bonds, and 1.9% for the S&P 500. One more important thing to consider is that MLPs have less correlation with the stock market.
Advantages of MLPs
They offer a regular source of income in the form of quarterly cash distribution.
They allow investors to reduce or defer taxes on their investments.
They offer estate planning advantages.
Disadvantages of MLPs
The tax reporting is complex for investors in comparison to C-Corp tax reporting.
Investors file a K-1 tax form instead of a 1099 form.
Investors have the option to invest directly into MLPs, or they can invest in them through mutual funds or ETFs without having to file the K-1 form. Through this option, investors file the familiar 1099 form, and dividends retain the return of capital treatment. Plus, investments can be placed in retirement accounts. However, every ETF charges management fees, usually called the management expense ratio.
One MLP ETF investors can consider is the Alerian MLP ETF (AMLP), which directly invests into MLPs like Enterprise Product Partners (EPD), Plains All American Pipeline (PAA), Magellan Midstream (MMP), and Williams Partners (WPZ). These MLPs have a combined weight of 34.1% in AMLP.
In the next article, we'll discuss various ways to invest in MLPs.