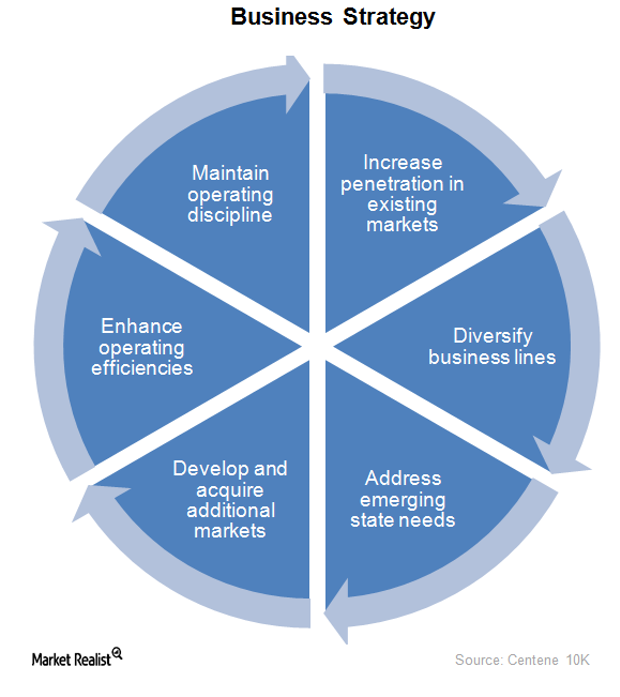 What's Centene's Business Strategy?
Business strategy
Centene's (CNC) business strategy focuses on improving the quality of the services it provides. The company provides services to the uninsured and underinsured population in 22 states in the US. It controls costs.
The above chart lists the key parts of Centene's business strategy.
Article continues below advertisement
Article continues below advertisement
Strengthening existing markets
To increase penetration in existing markets, health insurance companies (IYH) generally offer localized community-specific products for greater client acceptance. Centene has been attempting to increase its Medicaid membership in its current markets. It's focused on alliances with the major health providers, targeted acquisitions, and outreach efforts. It wants to increase awareness among the states' residents.
Diversification
Centene expanded in business lines like dual eligibles, long-term care, and specialty services. These business lines complement the company's core Medicaid business. The company has been seeking out more of these opportunities in the US and foreign markets. In 2014, Centene acquired US Medical Management—a management services organization and provider of in-home health services to very sick people.
Article continues below advertisement
Emerging state needs
Centene collaborates with the state governments to provide Medicaid services. This ensures that the company achieves its targeted return. The company helps states balance premium rates, benefit levels, member eligibility, policies and practices, and provider compensation. It helps states minimize fraud and abuse.
Market expansion
Health insurance companies—like Cigna (CI), UnitedHealth Group (UNH), Aetna (AET), and Centene—have been actively seeking out market expansion opportunities in domestic and international markets. In 2013, Centene expanded its markets. It started providing Medicaid services in California, Kansas, and New Hampshire. In 2014, the company entered the international market. It invested in Ribera Salud—a Spanish health management group.
Article continues below advertisement
Article continues below advertisement
Operating efficiencies
Centene has been using its information technology resources more to automate transaction processing and develop decision-making analytical tools. These tools, combined with the centralized nature of the resources, enable the company to add members and markets quickly and economically.
Operational discipline
Centene uses several techniques like on-site hospital review by nurses and involvement of medical management in complex cases to ensure appropriate resource utilization. The company's management regularly evaluates the financial impact of changes in health provider relationships, contracts, membership, and mix of members. If there's lower-than-expected financial performance, like the Kentucky Medicaid Managed Care Contract, the company terminates or divests its health plan.