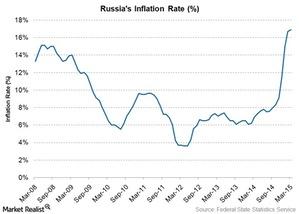 Sliding Ruble Pumps Russia's Inflation Rate to 16.9% in March
Russia reported inflation numbers for March
Russia's Federal State Statistics Service reported inflation numbers on April 6. Inflation in Russia (RSX), as measured by the change in the consumer price index (or CPI), rose to 16.9% in March year-over-year following a 16.7% rate in February.
Article continues below advertisement
Sliding ruble and Western sanctions add to inflation rate in Russia
Russia's inflation rate has been trending upwards since the beginning of 2014 alongside the ruble's decline. The ruble has declined by almost 40% against the US dollar (UUP) since last summer. On April 6, the ruble fell further to 55.96 rubles per dollar, setting a new 2015 record. The sliding ruble, along with the food import bans imposed by through Western sanctions, have led to a rise in import prices, adding to Russia's inflationary woes.
However, the rate of the increase has slowed recently. Month-over-month, the CPI rose by about 1.2% in March, following a 2.2% increase in February and a 3.9% rise in January.
Russia's central bank may not resort to QE
With inflationary risks abating in Russia, Governor Elvira Nabiullina commented, "There's no reason to expect QE from us — our main instrument is the key rate. … the Bank of Russia will continue to decrease the key rate." Consequently, Russia's central bank may not engage in quantitative easing (or QE) measures in order to boost its recessionary economy but may instead use the key rate to bring about the desired change.
The VanEck Vectors Russia ETF offers exposure to Russian equities. Its top holdings include companies like Rosneft Oil (OJSCY), Sberbank of Russia (SBRCY), Surgutneftegas (SGTZY), and Gazprom (OGZPY). These stocks commanded 4.63%, 5.98%, 4.50%, and 7.55% of the ETF's portfolio, respectively, as of March 3, 2015.
You may want to read our earlier series Russia's rating is at risk, affecting your return on investment.
Stay updated on the latest key indicators from the US (SPY)(IVV) and the world by visiting our Global Equity ETFs page on the Market Realist website.