A Review of Energy Transfer Partners' Business Segments
ETP operates primarily through its six business segments by leveraging its huge asset base.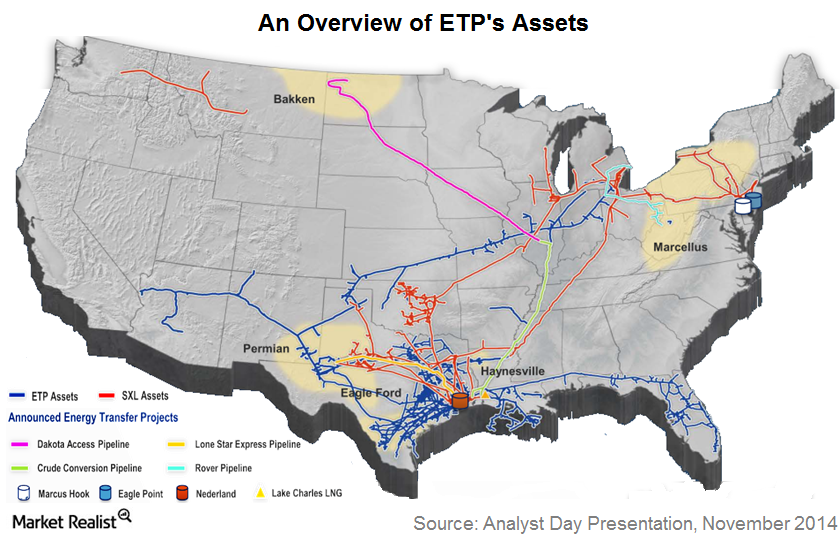 Asset overview
Now that we've looked at a brief overview of Energy Transfer Partners (ETP), let's look at the business segments of ETP.
Article continues below advertisement
Article continues below advertisement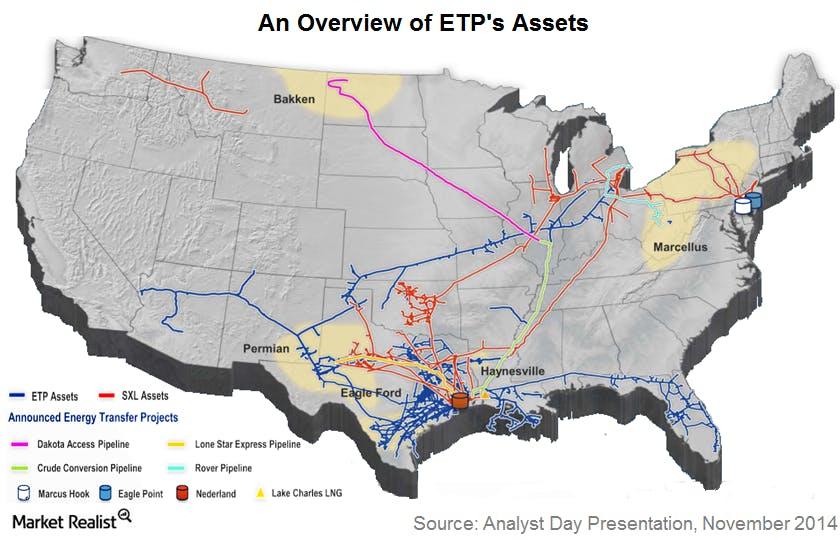 ETP operates primarily through its six business segments by leveraging the huge asset base shown in the above image. Before discussing the business segments, here is a quick overview of its assets as of November 2014:
more than 43,000 miles of natural gas, natural gas liquids (or NGL), and crude and refined product pipelines
more than 5.5 billion cubic feet per day of natural gas processing, treating, and conditioning facilities
251 thousand barrels per day of fractionation capacity
more than 175 billion cubic feet of natural gas storage
more than 50 million barrels of NGL storage
Business segments
Intrastate Transportation and Storage: The segment is involved in delivery of natural gas to industrial end users, utilities, and other pipelines within the state borders. Intrastate pipelines are generally not under the jurisdiction of the Federal Energy Regulatory Commission.
Interstate Transportation and Storage: As the name suggests, this segment delivers natural gas between states. The FERC has broad regulatory authority over the business and operations of interstate natural gas pipelines.
Midstream: This segment consists of natural gas gathering, compression, treating, processing, and transportation services. The segment performance is dependent upon the proximity of gathering systems and processing plants to natural gas producing wells.
Liquids Transportation and Services: This segment is involved in the transportation of mixed NGLs (or natural gas liquids) from processing plants to fractionation and storage facilities through transportation pipelines. It also provides NGL storage services.
Sunoco Logistics: Through this segment, ETP provides transportation, terminalling, and logistics of crude oil and refined products.
Retail Marketing: As the name suggests, the segment is involved in retail marketing of gasoline and other middle distillates.
Other players operating in these segments include Williams Partners (WPZ), EQT Midstream Partners (EQM), and Spectra Energy Partners (SEP). Each of the four securities are part of the Alerian MLP ETF (AMLP). ETP alone constitutes ~7.05% of the ETF.
In the next few articles, we'll analyze ETP's six major segments in detail.