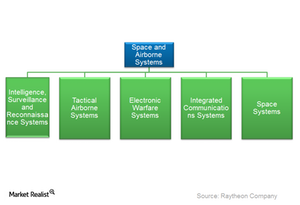 What Is Raytheon's Space and Airborne Systems Segment?
By Ally Schmidt

Apr. 13 2015, Published 3:10 p.m. ET
About the Space and Airborne Systems segment
Raytheon Company's (RTN) Space and Airborne Systems segment, headed by Richard R. Yuse, designs and develops integrated sensors such as EO/IR (electro-optical/infrared) sensors, airborne radars for surveillance and fire control applications, and communication systems for advanced missions such as the traditional and nontraditional ISR (intelligence, surveillance, and reconnaissance).
The segment also makes precision engagement and guidance systems, intelligence systems, unmanned aerial operations, processors, communication systems, electronic warfare systems, and space-qualified systems. The segment supplies to the U.S. Navy, U.S. Air Force, U.S. Army, and some international customers.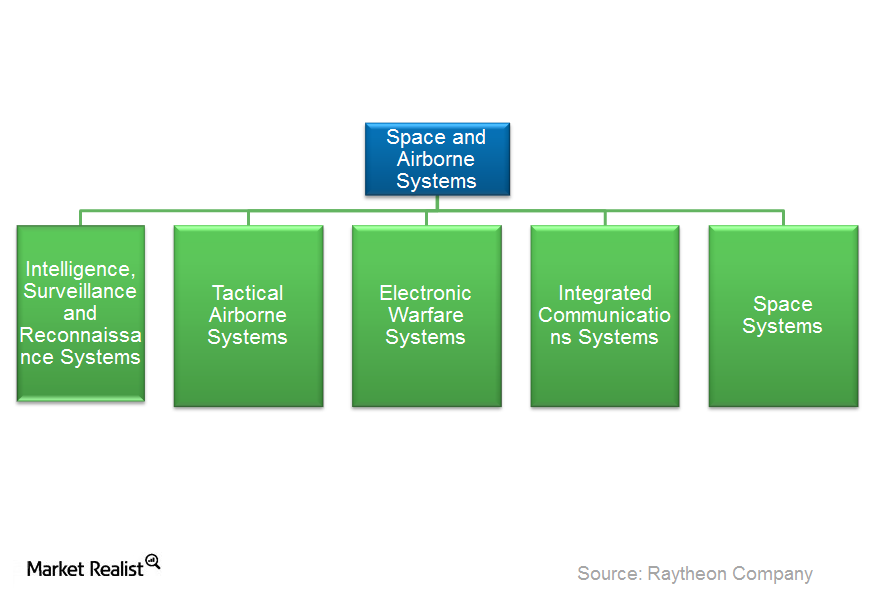 Article continues below advertisement
Capabilities
Some of the key product lines of Raytheon's Space and Airborne Systems segment include the following:
Intelligence, Surveillance and Reconnaissance Systems (or ISRS) – ISRS includes sensor and targeting solutions for strike, persistent surveillance, and special mission applications. Key products include APY-10 radar, the DAS-2 Common Sensor Payload, and the Multi-Spectral Targeting System.
Tactical Airborne Systems (or TAS) – TAS includes integrated sensor systems with advanced fire control radars and processor technologies. Its advanced airborne processors are a critical part of the secure mission computer signal processing systems of various armed forces aircraft. It serves various international customers in Canada, Australia, Saudi Arabia, and Japan.
Integrated Communications Systems (or ICS) – ICS are tactical airborne communications, advanced tactical networking, software-defined radio technology, and real-time sensor networking. ICS is the top provider of highly secure satellite communication terminals for the US military.
Electronic Warfare Systems (or EWS) – EWS includes electronic warfare systems and equipment for helicopters, strategic and tactical aircraft, surface ships, integrated electronic warfare suites, jammer programs, the Multi-function Integrated Receiver/Exciter System (or MFIRES), radar warning receivers, towed decoys, missile warning sensors, and radar and communications countermeasures.
Space Systems (or SS) – SS develops various space and space-qualified sensor payloads as well as radio frequency–based, EO/IR-based, and radar and laser space-based sensors.
Performance 2014
Revenues for Raytheon's (RTN) Space and Airborne Systems segment declined in 2014 by about 5% year-over-year primarily driven by lower sales on ISR, ICS, and other classified programs as well as lower intersegment sales due to low volume of ground sensor systems. This led to lower income and slight growth in margins. The bookings for various programs in the segment also saw a decline in the year.
Raytheon forms a 0.65% holding of First Trust Industrials/Producer Durables AlphaDEX Fund (FXR). Other major companies included in FXR are Orbital ATK (OA), Trinity Industries (TRN), and Spirit AeroSystems (SPR). They have 2.01%, 1.95%, and 1.89% holdings, respectively.
Let's look next at Raytheon's new technology, which could be a potential game-changer.