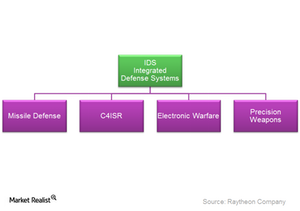 Raytheon Company's Integrated Defense Systems
About the Integrated Defense Systems segment
Raytheon Company's (RTN) Integrated Defense Systems (or IDS) segment is headed by Daniel J. Crowley. According to Raytheon, IDS "specializes in air and missile defense, large land- and sea-based radars and systems for managing command, control, communications, computers, intelligence, surveillance and reconnaissance (C4ISR). It also produces air traffic management systems, sonars, torpedoes and electronic systems for ships."
IDS provides services domestically to the U.S. Department of Defense (or DoD), the U.S. Intelligence Community, and the Federal Aviation Administration (or FAA). Internationally, IDS has more than 50 customers around the globe.
Article continues below advertisement
Capabilities
The major capabilities of Raytheon's IDS segment include the following:
Missile Defense – Missile Defense includes radars, interceptors, and space sensors that help protect against cruise missiles, ballistic missiles, aircraft, and other threats. Its key products are the Patriot, Exoatmospheric Kill Vehicle, and Standard Missile-3, which have received international recognition.
Command, Control, Communications, Computers, Intelligence, Surveillance, and Reconnaissance (or C4ISR) – C4ISR produces sensors and other advanced networks that provide advanced solutions in radars and sonars.
Electronic Warfare – Electronic Warfare produces jammers, decoys, and other electronic warfare products that make it a leader in the segment since World War II.
Precision Weapons – Precision Weapons provides technologies such as laser guidance, satellite navigation, advanced seekers, and high-definition radars. The products include a number of missiles, guided munitions, torpedoes, and close-in weapon systems.
IDS's financial performance for 2014
Raytheon's Integrated Defense Systems segment saw marginally lower sales during the year due to lower sales across most of its major programs such as the Patriot program. Operating income also declined due to changes in EAC (Economic Adjustment Committee) adjustments, lower volumes, and business mix. The backlog stood at $11,495 million at the end of the year, driven by strong order delivery in its international Patriot Air and Missile Defense (or A&MD) Systems and domestic and international missile defense radars.
Raytheon forms a 1.32% holding of the Vanguard Industrials ETF (VIS) and a 1.82% holding of the Industrial Select Sector SPDR (XLI). Other aerospace companies included in VIS are Honeywell International (HON), Lockheed Martin (LMT), and Rockwell Collins (COL). They have 2.91%, 2.04%, and 0.40% holdings, respectively in VIS.
Next, we'll look at Raytheon's Intelligence, Information and Services segment.