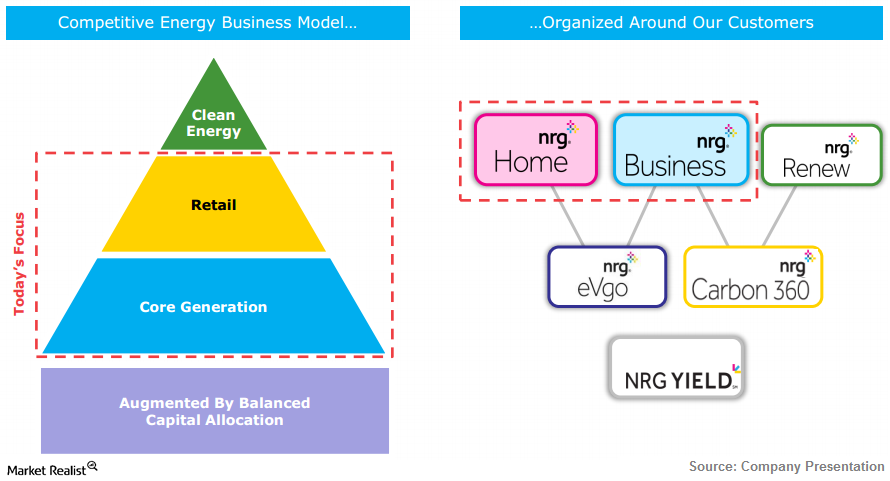 Oaktree Capital Sheds Nearly Half Its Holdings in NRG Energy
Oaktree Capital's holdings in NRG Energy
Article continues below advertisement
NRG Energy company overview
NRG Energy is a US-based integrated retail electricity and wholesale power-generation firm. As a wholesale generator of power, NRG is involved in the operation and ownership of facilities related to power generation, energy trading, and trading of and transacting in fuel.
As a retail energy company, NRG supplies sustainable products and energy services to retail customers via various brands and channels.
The company also has interests in the commercialization and deployment of technologies that are potentially disruptive, such as distributed solar technology and smart vehicles.
NRG is a major player throughout the US with 2.5 million residential customers. In comparison, First-Energy (FE) serves 2.4 million customers, Just Energy (JE), 1.9 million, and Direct Energy serves 2.7 million residential customers. NRG's PE (price-to-earnings) ratio is 109.5x. That's much higher than peer Calpine (CPN), which trades at a PE value of 9.6x.
NRG reported losses in all segments except one in 4Q14.
Article continues below advertisement
NRG Business
This segment is responsible for the wholesale operations of the company, including commercial and plant operations. NRG Business reported a $575 million profit in 4Q14, an impressive turnaround from the $452 million loss reported the prior year.
NRG Home Retail
NRG Home Retail is the company's consumer-facing business and caters to retail customers. NRG Home Retail, under NRG Home, offers home energy services to consumers. This segment reported a loss of $99 million in 4Q14 compared to profit of $225 million in the prior year.
Article continues below advertisement
NRG Home Solar
NRG Home Solar offers customer acquisition, contract management, and installation services to residential solar customers. The segment reported losses of $18 million in 4Q14, worse than the $4 million losses incurred in 4Q13.
NRG Renew
This segment focuses on developing renewable services and products such as micro-grid solutions that are aimed at higher-end consumers. Quarterly losses widened to $64 million compared to a 4Q13 loss of $16 million.
NRG Yield
NRG Yield is a publicly traded company that acts as the vehicle through which NRG acquires and operates thermal infrastructure, generation, and renewable assets. This segment suffered a $10 million loss during 4Q14 in stark contrast to a $33 million profit reported in 4Q13.
In the next part of this series, the trimmed position of Oaktree Capital in Mobile TeleSystems OJSC (MBT) will be discussed.