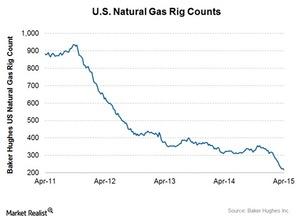 Natural Gas Rig Count Back to Downtrend in Week Ended April 17
Gas rig count is down
In the United States, there were 217 natural gas rigs operating in the week ended April 17, 2015, a loss of eight compared to the previous week. Among the major shales, the Arkoma Woodford in Southeastern Oklahoma and the Utica Shale in the Appalachian Basin each idled two gas-targeted rigs last week. Natural gas rig count increased by three the previous week.
Falling natural gas rigs in operation suggest how major natural gas producers like Antero Resources (AR), Southwestern Energy (SWN), CONSOL Energy (CNX), and WPX Energy (WPX) are lowering drilling activity. This could mean a slowdown in production growth or even production decline. SWN and CNX account for 1.5% of the Energy Select Sector SPDR ETF (XLE).
Article continues below advertisement
Article continues below advertisement
Natural gas rig counts have been on a downward trend for about three years. The gas-targeted rig count seemed to have stabilized over the past six months, showing nine increases in that period. However, any hope of revival has now been dashed by ten weeks of smaller gas rig counts in the past three months.
Natural gas rig counts are down by 97 in the past 11 weeks, dashing hopes of a turnaround in the trend. Natural gas production, however, has been on a continuous uptrend.
One-year gas rig counts are down
The number of active natural gas rigs decreased throughout last year. A year ago, there were 316 natural gas rigs in operation. Currently, there are 217 rigs. That's a decrease of 99 rigs, or ~31%. In comparison, rig counts dropped by 63 for the week ended April 18, 2014, down ~20% from a year earlier.
Natural gas rigs in major US shales
In the last year, most of the decline in the natural gas rig count occurred in the Barnett and Haynesville Shales where the number of gas rigs decreased by ten and 19, respectively. In the last year, the Eagle Ford Shale added six rigs to its natural gas rig total, the most of any shale play in the United States.