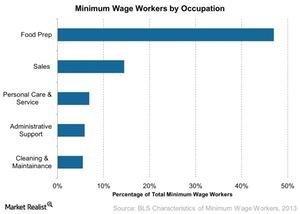 Minimum Wage and Why It Concerns the Restaurant Industry Most
By Adam Jones

Apr. 10 2015, Updated 2:39 p.m. ET
Minimum wage workers in the US
According to a 2013 report released by the U.S. Bureau of Labor and Statistics called "Characteristics of Minimum Wage Workers," about 3.3 million people, or 4.3% of workers, in the US aged 16 and older were paid minimum wage or less. Of the 3.3 million minimum wage workers, the highest number—50%—were between the ages of 16 and 24.
According to the report, Texas reported the highest number of minimum wage workers in the US. That means 400,000 people or 12% of workers earned minimum wage there in 2013. Texas is one of the states in which minimum wage is equal to the federal minimum wage.
Article continues below advertisement
Why a wage increase concerns the restaurant industry
So, what occupation hires the highest number of minimum wage workers? Almost 47% or 1.5 million of the total 3.3 million minimum wage workers were employed in the "food preparation and serving related occupations." This includes restaurants such as McDonald's (MCD), Darden Restaurants (DRI), Chipotle Mexican Grill (CMG), Panera Bread (PNRA), and several others included in the consumer discretionary sector (RXI)(XLY). XLY directs about 10% of its portfolio in restaurant stocks.
What is the current federal minimum wage?
In the US, the federal hourly minimum wage is $7.25, but some states have their own minimum. In cases where the state wage differs from the federal wage, employees are paid the higher of the two.
According to the NCSL (National Conference of State Legislators), 29 states and the District of Columbia had minimum wages higher than the federal minimum hourly wage as of February 24, 2015. The state of Washington had the highest minimum wage of $9.47 as of the date of publication.
Series overview
What we've just presented is some of the most critical data available on the topic of US minimum wages. In this series, we'll interpret these data in greater detail and update you on the current state of minimum wage in the US.